Celebrate the Whitsun half term in Shakespeare Country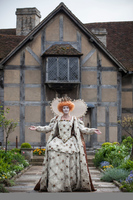 Celebrate the Whitsun half term from the 2 – 10 June along with the Queen's Silver Jubilee in Shakespeare Country with host of exciting activities and events from royal jousts, tea parties, patriotic competitions, a Tudor Festival, Royal Cars Exhibition, treasure trails, picnics and an RSC performance of In a Pickle! There's something for everyone to enjoy!
Enjoy patriotic pageantry and royal revelry as Warwick Castle welcomes back its famous jousting knights. The castle has ordered 9,000 metres of bunting – enough to stretch up Ben Nevis, almost seven times over! Visitors can enjoy the horseback heroics of the Royal Joust who return to join the Warwick Warriors, birds of prey, Witches of Warwick and stars of BBC One's hit family drama, Merlin to create an exhilarating day out for all the family.
The Royal Shakespeare Company is offering plenty of family activities including story telling sessions and workshops plus exhibitions and performances. Throughout half term children can visit the Tower for free and enjoy stunning views of Shakespeare's home town. Or see In a Pickle, suitable for 2 - 4 year olds from the 23 May – 17 June. The play combines live music, beautiful costumes, smells and textures for a multisensory journey through the landscape of Shakespeare's imagination and the music of his language.

At Shakespeare's Birthplace Queen Elizabeth I will be holding court, accompanied by William Shakespeare with performances of scenes from his plays between 10am and 4pm daily. Children can have their faces painted in Elizabethan style, and if they come in fancy dress, entry is free. A small exhibition exploring royal connections with Shakespeare's Birthplace will open in the Shakespeare Centre, including examples of the signatures of Elizabeth I, Elizabeth II and Shakespeare. The Tudor Festival at Mary Arden's Farm takes place from the 2 - 4 June featuring a royal tournament with archery and jousting contests, bouncy castle and Tudor rules football! Children are invited to come in fancy dress to gain free entry. Activities continue throughout half term.
The MAD Museum is holding a weird and wonderful competition providing fun for the whole family. Contenders have 4 chances to win goodie bags full of crazy and eccentric MAD prizes! From 2 - 5 June, visitors can take part in a very patriotic 'Find the Flags' competition. Visitors need to find all 20 Union Jack flags around the museum to be entered into the draw to win a bag of goodies plus a free family ticket to the museum.
Kenilworth Castle & Elizabethan Gardens will host a special royal-themed Time Travellers event "Time Travellers Go…Royal" from 3 - 5 June from 11am - 5pm. Visitors can enjoy games and crafts fit for a King or Queen and meet some royal characters of times gone by.
Enjoy free entry into Hill Close Gardens in Warwick on Monday 4 June. There will be a special lunch and tea, a display of antique garden machinery and an exhibition about the language of flowers. Children can enjoy garden trails plus a Creepy Crawly Creatures workshop on Thursday 7 June. On Friday 8 June enjoy a guided tour to look at plants of special interest at this time of year.
As part of the Stratford Fringe Festival week, visitors can enjoy a range of activities at the Stratford Butterfly Farm including story telling in the garden, face painting, glitter tattoos and Juggling workshops plus the return of the fantastic Jungle Explorers Trail.
The Heritage Motor Centre is hosting a special Royal Cars Exhibition during half term with a selection of Royal vehicles. Jubilee Family Fun will be packed full of all things red, white and blue with special craft days on 5 & 7 June where families can make crowns and bunting. Children will be encouraged to come dressed as Queens, Kings, Princes and Princesses. Plus there's a Jubilee Quiz and even a throne to sit on!
During the day, visitors can experience "The Mystery of the Golden Broomstick" at Stratford's Museum of Wizardology. Join the world's greatest time travelling wizard as he endeavours to solve the mystery of the Golden Broomstick – using magic! A magical and intriguing mystery for children to solve, whilst exploring the magical corridors and exhibits – the Mystery of the Golden Broomstick will appeal to anyone with a fertile imagination and a sense of adventure! In the evenings experience "Murder at the White Lion", a terrifying tale of murder adapted and dramatised by local broadcaster and author Dave Matthews.
Experience life as a Tudor spy at the Falstaff Experience Tudor World! Break the secret code and deliver the message that will save the kingdom. If successful, guests will receive a certificate and prize. On selected days throughout the week are Elizabethan Spy Shows. The rogue agent will tell tales and ensure laughs as he explains the life of a spy, and finishes by showing what happened to those spies who were caught, with a live mock beheading.

Visitors to Hatton Farm Village can participate in a royal quest. By successfully finding all the royal artefacts, children will be led to the secret hiding place of the Hatton Crown Jewels. There will be special prizes for those who follow the trail to the hidden treasure. Visitors will also be able to watch dog agility displays and goat racing – but with added obstacles to make it truly testing for the agile goats. Other wacky Whitsun racing fun includes the famous daft duck races – guaranteed fun, but no guaranteed winners – or even finishers...
At Compton Verney from the 2 – 8 June children can make their own crown and pose as a Tudor monarch inspired by portraits of Kings and Queen in their British Portraits Collection., Children under 5 can join storytellers to enjoy puppets Connie and Verne's latest Diamond Jubilee adventure from the 4 – 8 June.
Celebrations at Coughton Court include a 'street party' style tea party as part of the National Big Lunch on 3 June, a 'bake off' cake competition for children & adults, royal trails, entertainments and games. On the evening of Monday 4 June, Coughton Court will play host to one of the 2012 National Beacons. From 7pm there will be food, drinks, games, music and the lighting of the beacon and in the true spirit of things there is no admission charge!
There's something for everyone at Baddesley Clinton and Packwood House with royally inspired garden trails for families, fascinating royal connections to discover, Jubilee inspired planting in the gardens and celebration picnics. On Sunday 3 June visitors can join in with the Big Lunch at both properties by bringing picnics to enjoy on the lawns. Story time will run throughout the day and there's a prize for the best dressed picnic.
Get your Glad Rags On at the Herbert Art Gallery & Museum with free craft and performance activities. Working with Highly Sprung, families can express their creativity through costume and performance on the 6 and 7 June. Families can create magical costumes and accessories before showing them off with a performance on the stage. Children can create unique costumes from a range of recycled and unexpected materials.
Experience 'D-Day: Home & Away' at St John's House Museum in Warwick on Wednesday 6 June. Make a boat with craft materials and a replica gas mask and gas mask box. Families can also take part in a museum trail with a special jubilee theme and identify objects with royal connections around both Market Hall and St John's Museum.
Finally cheer on the Queen's horse in the Epsom Derby at The One Elm on Saturday 2 June. If it wins then Pimms is on The One Elm! On the Sunday enjoy a Big Jubilee Lunch with everyone around one big table outside, weather permitting. Enjoy a 'Tiaras & Top Hats' party on the Monday with prizes for best dressed Queen. On the Tuesday watch the ceremony at St Paul's on the big screen with a selection of sandwiches, cakes & pot of tea!
For accommodation, special offers and more information visit the official website: Shakespeare-Country.co.uk.