Southern Tanzania secret hotspots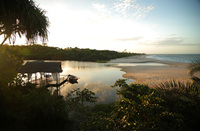 The Selous Safari Company is encouraging wildlife enthusiasts to explore southern Tanzania this upcoming safari season, which starts on 1 June. Far from the madding crowds of northern Tanzania and with more remote parks, a wide variety of safari activities, sophisticated dining and service on offer, this area is a real hidden gem on the East African safari circuit.
Tanzania is a country of great diversity,for example unlike the north's large expanse of plains, watering holes are bountiful in the south's Selous Game Reserve. Safari-goers therefore won't have to journey miles to find animals at the crack of dawn. Instead, wonder out to the Selous Safari Camp's private verandahs and with an uninterrupted view of LakeNzerakera, relax with a morning cuppa while watching Africa's greatest beasts feed and bathe while beautiful birds of prey circle above.
It's not just the landscape that greatly differs from the north but there are also more varied safari activities available, to include boat safaris at Selous Safari Camp, where guests can get up close to some of the continent's most notoriously bad tempered mammals. The Rufiji River, which snakes through the Selous Game Reserve, actually boasts the largest crocodile and hippo population in Africa!
Another area so often (unjustly) overlooked is the remote Ruaha National Park. Located in the south west, the Ruaha offers something its larger, more populated northern parks simply cannot – complete and utter isolation.
With new camps opening on a regular basis and recent talks of tarmac roads in the north, The Selous Safari Company's boutique Jongomero Camp gives safari aficionados the absolute antithesis in the south. This eight-tent camp in the heart of the Ruaha can rightly boast that its guests are unlikely to see another guest, 4x4 or even plane flying over head throughout their entire trip.
It's not just the south's outback that evokes a more undiscovered experience; the beach lodges on its Indian Ocean coastline also induce a more off-the-beaten-track, Robinson Crusoe feel. With sandy floors, hammocks and buckets of fresh seafood, Ras Kutani offers so much more than its mass-marketed northern isle alternative. Activities range from canoeing on the lagoon, strolling through the retreat's 100-acre tropical forest, snorkelling around a shipwreck and boogie-boarding in its seasonal surf.
Rainbow Tours (rainbowtours.co.uk) is offering a nine-night southern Tanzania safari and beach adventure from £3,695 per person for travel in June and from £4,395 per person for travel in October. Prices include flights from Heathrow with British Airways, three nights at both the Selous Safari Camp and Jongomero Camp on a full-board basis with daily game drives in open-sided 4x4 vehicles plus a further three nights at Ras Kutani on a full-board basis. Also included are internal transfers, taxes and surcharges.