Take to the road for a retro holiday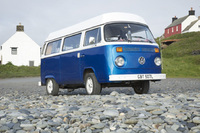 The sun is shining and the coast is calling - you want to pack your bags and head off on the open road for a weekend break or perhaps a longer holiday, but you have no where to stay and the family is looking for adventure. Forevercampervans.com with its friendly campervan Freddie can help you achieve that dream and provide the kind of Retro Holiday that everyone is talking about.
Forever Campervans offers retro VW Campervan hire, so you can make your next short break or special occasion a real experience, with a dash of classic nostalgia. Hiring a VW Campervan for a romantic break, a family holiday or a corporate event brings a smile and a dose of fun to everyone, even the driver and you can book Freddie for a weekend break for as little as £250, rising to £350 in high season. If you opt for a full seven day holiday, the prices range from £350 (low season) to £550 (high season) and there is unlimited mileage in the UK.
Freddie was born in 1972 and is a Type 2 Devon Moonraker - nothing to do with James Bond, though Freddie likes to think he's 007 now and again. He enjoys cruising between 50-60 mph, and his special water cooled diesel engine means he goes much further on his fuel than most other petrol campervans, averaging 38 mpg. He has a pop up roof which gives you loads of headroom and storage when you're parked, and can sleep up to 4 people with no problem.
Freddie's original 1970s interior has a fridge, a sink, two gas hobs and a grill, pull-out table and loads of storage for clothes and nice things for holidays like picnic rugs and a drive-away awning. You even get camping gas and two camping chairs so you can experience that true 70s ambience of frying sausages by the roadside. Freddie is also a National Trust member, so you can park him on any NT car park free of charge, especially handy around the South West coastline.
However Freddie does come with some 21st century features and has a CD player plus you can plug your iPod into him. He has a lovely memory foam mattress which is great to sleep on, and denim curtains to block out the light when you want a lie-in.
Forever Campervans is based in Somerset and pick up of the campervan is free from the nearest train station. Alternatively you can drive to Somerset and leave your car at Freddie's location and you are ideally placed to head for the West Country with its huge range of music, art and food festivals across the summer months.
It is easy to book online simply by logging on to forevercampervans.com and selecting your dates.