Explore the wonders of India without breaking the bank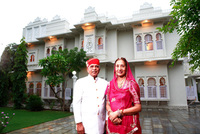 With the monotony of the never ending, dull, rainy weather lingering, and hopes of a barbeque summer being rapidly dashed, many Briton's are looking to escape to warmer climes this year; for a dose of much needed sunshine. But with the country in the grips of a double-dip recession, holidays-especially those with long distance travel, are a luxury that many think they can not justify or prioritise.
Thankfully Mahindra Homestays, (India's premier homestay provider), offer the perfect combination of affordable luxury; allowing UK visitors to travel long haul and discover the wonders of India...without breaking the bank.
Whether you want to explore Delhi and the majestic forts and palaces of Rajasthan, or the breathtaking beaches, backwaters and sumptuous cuisine of Kerala and the south, there is an itinerary experience for everyone- and a homestay to suit every traveller and budget.
The Mahindra Homestays are spread throughout India, allowing guests to experience the Real India, interacting with local people and forgoing the usual tourist haunts in favour of exploring hidden gems that most tourists never get the chance to enjoy. This combined with the chance to sample authentic Indian home cooking without astronomical hotel price tags, (a seven course feast costs less than £7 per person) allows Mahindra to offer a travel experience that hotel providers just can not match.
The homestays are run by the homeowners themselves, who are keen to welcome guests into their homes, to share experiences and build relationships, that by check-out have become friendships - something which hotels simply can't provide; a true VIP experience.
The Mahindra portfolio features a plethora of carefully selected homes, appealing to a wide range of personalities and price points and allowing visitors to have the wallet-friendly, long haul experience of a lifetime! Homes vary from a budget friendly £25 per night to a luxurious, value for money £140 per night, based on two sharing.
Best of all Mahindra Homestays are committed to offering sustainable holidays, employing local people and directly benefiting local communities, so you can holiday with a clear conscience, safe in the knowledge that your money will be well spent.
So what are you waiting for? Come and live like royalty in a rural Castle in Pali, or sail on a houseboat along Kerala's back waters, rent a beach house along Goa's golden sands or perhaps enjoy the dizzy heights of the Himalayas in Leh; whatever your Indian pleasure it can all be done with Mahindra Homestays.
Mahindra Homestays is part of the Mahindra Holidays & Resorts Ltd under the umbrella of the Mahindra Group; a renowned and highly respected brand in India. Mahindra implements a stringent quality control programme to ensure the services and amenities at each homestay meets the expectations of discerning international guests and directly benefits local communities.
Mahindra Homestays can be booked via mahindrahomestays.com.