Demand increases for hot tub holidays in the UK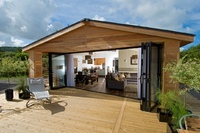 British holidaymakers are following in the footsteps of hot tub owning celebrities as a UK holiday company, Holiday Lodge Group, sees a rise in customers demanding their own private bubbles.
Halle Berry, Robbie Williams, Roxanne Pallet and Peter Andre are just a few celebs known for enjoying time out in their own hot tub and the latest feedback from Holiday Lodge Group, an ownership scheme spanning a collection of UK holiday properties, shows the luxury lifestyle has rubbed off. UK holiday makers are keen to live the Big Brother house lifestyle as Alex Joll, founder and MD of the Holiday Lodge Group has had to put in extra orders to fulfil the high demand.
The requests are in line with the recent figures released by National Lottery operator Camelot who found that almost a third (29 per cent) of lottery winners splash out on a hot tub. The trend even continues within the hotly anticipated Anchorman 2 film as the first trailer sees one of the lead cast members Champ boast, 'We're gonna be broadcasting from a hot tub full of Scotch'.
Alex Joll, MD and founder of Holiday Lodge Group, said: "Since our launch we have found that over half of our customers have requested the hot tub option – we are now having to buy more tubs to cope with demand. The hot weather over the last few weeks has been a hot tub haven but this was just as noticeable during the downpours."
The recent survey conducted by Holiday Lodge also highlighted that 79.3% of people questioned were planning to stay in UK for their 2012 holiday compared to just under 14% in North America and 87% in Europe.
Plus, on average, people expected to spend between £1,000 and £2,000 on their holiday with the highest preference being for self-catering.
"The survey just backed up what our research had already told us – staycations are set to stick around. Whether it's a family of four or a couple close to retirement, holidaymakers have told us they love nothing more than to throw all their stuff into the back of the car and head to the beautiful destinations on offer in the UK," said Alex Joll.
"But gone are the days when people want to go to the same destination year-after-year. Our research showed holidaymakers want a bit variety which is why we developed our fractional ownership scheme with access to a floating use of lodges in Devon, Wales, Surrey, the Lake District and Cornwall - the top place to visit in the UK according to our survey results."
Following the demand, Holiday Lodge Group has pledged to install a hot tub in every one of its destinations throughout the UK.
To find out more about Holiday Lodge Group, visit HolidayLodgeGroup.com.