Lower overheads for tennis player at West Bromwich apartment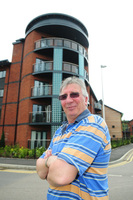 Ian Wright from West Bromwich has been perfectly matched with an energy efficient Aspire apartment after David Wilson Homes' served him well at Churchfields' Place.
Ian Wright, aged 64, previously rented a flat in Stourbridge until he decided to buy a new home. Ian, whose family live locally, is enjoying cheaper energy bills in his brand new 'Cheshire' style apartment, after eyeing up the contemporary development on his way to a tennis match.
The retired teacher is now spending less money on his monthly electricity bills compared to when he was living in his previous property.
He comments, "The energy bills I've had are extremely low, compared to the flat I was living in before. It feels very warm and this must be because of the latest technology that David Wilson Homes uses.
"The design of the apartment is excellent. It's very spacious throughout and is also easily maintainable. Fixtures such as the shower and cooker are all integrated, which is a great use of the space.
"I've got a balcony, which gets lots of sunlight in the late afternoon and there's a great view of Dudley Castle too.
"I haven't had to compromise with this apartment, I can't think of one improvement I would make. David Wilson Homes does exactly what it says in their ads. Everything is five star quality including the service."
Alastair Parsons, Senior Sales Manager at David Wilson Mercia, comments "We're delighted when we hear that our customers are experiencing lower energy bills when buying a new home with us.
"As a housebuilder, we strive to make our homes as energy efficient as possible using the latest technology. Not only does this considerably help the environment, but this helps our customers' pockets too.
"We wish Ian the very best of luck in his new home."
Churchfields Place, located off All Saints Way, West Bromwich currently has a selection of three- four- and five- bedroom houses priced from £242,000 as well as one- and two-bedroom apartments at Aspire, where prices start from £108,000.
For more information, visit dwh.co.uk.