South Africa welcomes back Charley Boorman for new adventure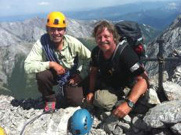 Charley Boorman will be returning to South Africa for his most intense journey through the country yet. Setting off on 6 June for the six-week trip the actor and adventurer will be really getting under the skin of what makes South Africa so unique. He'll be joined by seasoned traveller Russ Malkin, producer/director of Boorman's previous hit TV series which include epic bike journeys Long Way Down and Long Way Round with Ewan McGregor.
Starting in Cape Town, Charley and Russ will be traversing the Western Cape by motorbike, exploring everything it has to offer culturally, geographically and gastronomically - with a healthy dose of adventure along the way. Highlights of the trip include visiting Mandela's birthplace, climbing Table Mountain in Cape Town before paragliding from the top, diving with blacktip and tiger sharks, hiking in the Drakensburg Mountains to the second biggest waterfall in the world and paramotoring down the Limpopo river.
Charley's expedition for Extreme Frontiers will be the third time he has visited the country as part of a major expedition. In 2007 Cape Town marked the final destination for Long Way Down, which saw Charley and Ewan travel by motorbike from John O'Groats to South Africa. In 2011 he led a group of 50 bikers from Cape Town to Victoria Falls and beyond - an odyssey he'll be repeating later in 2012.
Charley Boorman, adventurer and presenter, says: "South Africa is such a rich country that I felt I had to return to explore it further and to reconnect with some of the people from my last trip who have become like family. South Africa is one of the most beautiful places on earth, rich in gastronomy, activities and fantastic people and I feel really privileged and excited to returning."
Lungi Morrison, South Africa Tourism, says: "Those who followed Charley's expeditions before know he loves adventure and that South Africa has plenty to offer. This trip will provide new encounters with our country, its history, gastronomy, phenomenal landscape and people."
Extreme Frontiers: South Africa will be airing towards the end of 2012 in a 4 part series for Channel 5, and will also be released as an interactive kindle chapter by chapter whilst Charley is on location.
Travel enthusiasts and fans will have the opportunity to get a sneak preview of the series by tracking the team's progress in real time online via social media (Facebook: Extreme Frontiers and Twitter: @extremefrontier) and an interactive website (extremefrontiers.com).