All systems go for Polperro's 17th Music and Arts Festival!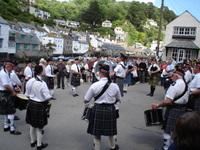 Final preparations are taking place for this year's exciting Polperro Music and Arts Festival from 15th-24th June. The Festival always takes place over the Summer Solstice in the 3rd week of June and has such a variety and mixture of events from live music to arts and craft stalls, exhibitions, comedy evenings, a dog show, dance classes, open air Bingo, food and much, much more and all under a covered marquee – just in case!
This year's musical highlights include Jazz Morley, The Penguins, Quad-Core and Daniel Keemish, Gadjo Guitares, Smug Jars, Polperro Fishermans Choir, Keltique, The Singing Seagulls, Mad Dog McRea, James Davies, GeeBaby I Love You plus many more bands and artists in the local pubs. Paul Matthews, Polperro Festival Treasurer says, ''As volunteers we spend all year fundraising to enable us to make as much of our festival free as possible, whilst highlighting the history and heritage of our picturesque fishing village and highlighting the important work of other local charities and community groups. This year we're championing the work of the British Hen Welfare Trust, Polperro Memory Café, Polperro Environmental Group and the Devon and Cornwall Food Association.''
Saturday 16th June will see the unveiling of our New Lord Mayor! It's a tongue in cheek unofficial title but a very important one as their main task is to check that all the local establishments' ales are up to scratch followed by a dunking in the harbour! Wednesday 20th June daytime is 'Schools Day' and this year we have Polperro Primary School and the possibility of up to 150 children from all over South East Cornwall singing Sea Shanties while the evening of the 20th and 21st June see a return to our Comedy Nights at the Village Hall with 'The Pappy's'' as seen on TV! Tickets are available locally or via the website. Friday 22nd June is 'Foody Friday' and an important day for raising awareness of the work of the Devon and Cornwall Food Association.
The festival starts on the eve of 15th June with a warm-up @ Polperro Arts Foundation from 7.30pm and Spanish Guitar music by Gadjo Guitares and an exhibition of 'Sea Creature' Art by Polperro Primary School.

For more information about this year's festival, see polperrofestivalsandlights.co.uk.