Wave House brings the FlowBarrel Ten to Europe for the first time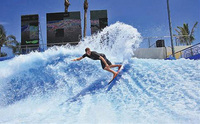 Wave House, the global entertainment, sport and leisure venue, has launched in Europe, bringing to Mallorca a taste of the Californian lifestyle with a distinctive Balearic twist. Wave House Mallorca combines two giant wave attractions, sensational parties and great service in a sleek beach side location, promising the ultimate summer experience for those in search of an unforgettable party holiday.
Firmly established in the U.S., Chile, South Africa and Singapore, Wave House is already popular amongst professional boardsport athletes such as Tony Hawk, Mathieu Crepel and Olympic gold medallist, snowboarder Shawn White. The Wave House expansion to Europe introduces innovative surf simulation technology and the unique hybrid action sport of FlowBoarding.
Whether you're just starting out on the waves or have already mastered the art, Wave House offers the support and environment to showcase your board skills in a buzzing atmosphere of fellow riders and revellers. Challenge your friends or set your own targets – the choice is yours.
Party seekers will be equally attracted to Wave House Mallorca and following the success of the legendary day parties in Wave House San Diego, Durban, Santiago, and Singapore; there will be a calendar of thrice weekly events set to dominate the Mallorcan party scene this summer. Sundaze, a mainstay of the San Diego calendar (and which has seen Calvin Harris, DeadMau5, Skrillex amongst others perform) will take place every Sunday, infusing this established night with a laid back Spanish vibe. Watch this space for more information on the line-up.
With two restaurants and three bar areas in a spectacular beachside location, Wave House Mallorca is a one-stop shop for those seeking a unique and fun alternative to lounging on the beach. Whether you are up for the challenge of FlowBoarding or want to simply admire the view of other riders, a standout holiday experience is guaranteed.
About Wave House
Wave House is a global entertainment, sport and leisure venue which has bases across the U.S.A., Chile, South Africa, Singapore and now Europe. Housing both the Double FlowRider and the more extreme FlowBarrel Ten, at Wave House you can learn to or perfect the art of the exhilarating sport that is FlowBoarding.
The FlowBarrel Ten is the main attraction and the magnet that draws in the crowds to participate and watch the action. The customer experience is completed with a range of related activities at the venue -from food and drinks to retail and events. The idea was conceived in the surf of California, but whilst there is always a reference to the Californian lifestyle, each venue blends the local culture into its DNA to give it a truly unique character.
The waves are created by multiple, high-energy pumps projecting a layer of water over a surface designed to resemble an ocean wave, creating 'sheet waves'. Water flows at between 20 and 40 miles per hour, creating a surface which allows flowboarders to 'ride the wave'. FlowBoarding is an evolution in boardsports and is one of the fastest to learn. It could be considered a combination of skateboarding, snowboarding and surfing, but it is truly a unique sport in its own right.
For more information, visit wavehousemallorca.com.