Astra VXR arrives at Rockingham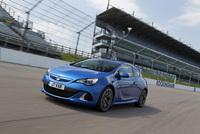 Vauxhall is using Rockingham motor racing circuit in Northamptonshire to launch its most powerful Astra to date, by holding a special motorsport event to demonstrate the car's true potential.

Rather than spend time showing off the stereo or rear legroom, Vauxhall is letting journalists test the car's mettle for themselves, by staging the Motor Sport Association accredited Astra VXR Media Sprint Challenge.

With a programme designed to incorporate road and track testing, from today (Monday, June 11) to Wednesday (June 13), three groups of journalists from national motoring titles and regional press will compete to post the best time.

Far from being just a track day, the journalists will complete a three hour, 110 mile route on the roads surrounding Rockingham, before a safety briefing for the sprint event. Each driver will then be allowed a sighting lap, followed by a half-hour slot for two timed runs. As an MSA event, journalists are required to hold a relevant race licence and use approved safety equipment during the sprint.

The press event is a continuation of the 'Vauxhall Challenge' theme used for the launch of the Astra GTC in 2011, but takes the concept to a higher level.

"We wanted to create a unique launch, but finding a venue with the right motorsport and delegate facilities isn't easy," explains Simon Hucknall, Vauxhall's PR Manager. "As a fully fledged race track and conference centre, Rockingham is capable of hosting an MSA endorsed sprint and entertaining our guests."

The Vauxhall Astra VXR is the most powerful production Astra to date, with a 280PS 2.0-litre turbo-charged engine, a 0-60mph time of 5.9 seconds and a max speed of 155mph.

The three-door coupe comes with a host of high-performance enhancements, including a mechanical limited-slip differential, bespoke Brembo brakes, and FlexRide adaptive damping. It's expected to be the best selling model in Vauxhall's VXR line up, and will arrive in showrooms this July priced from £26,995.