Spyder Club welcome the Ducati 1199 Panigale to their fleet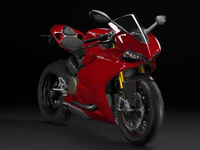 The wait is finally over for Spyder Club as they welcome the Ducati 1199 Panigale to their fleet.

Spyder Club is an exclusive motorcycle hire club whose members enjoy some of the latest and most exotic modern motorcycles and for many members the highlight of the 2012 additions to the fleet is the Ducati 1199 Panigale. It has been a tantalising wait for members anticipating the arrival of the Panigale, but the bike finally made its first appearance at the recent Spyder Club Open Day.

The Panigale joined the Diavel as well as the new Streetfighter 848 on the Spyder Club fleet and these three bikes thoroughly entertained the members and guests during the Open Day. Mark Smith-Young of the Spyder Club was blown away by his first experience of the 1199 Panigale and commented, "When on the bike you immediately feel special, the engine is so smooth for a twin but hasn't lost the Ducati character. It turns in so quickly, the lightness and agility of the chassis is something riders hadn't experienced before and the pull from the motor is astonishing. In layman's terms, it's brilliant!"

The Ducati 1199 Panigale is available to ride through the Spyder Club membership scheme along with other desirable motorcycles or you can ride the Spyder Club fleet as a guest on a European fly-ride tour. If you wish to experience the 1199 Panigale you can do so by emailing info[at]spyderclub.co.uk. Spyder Club's next Open Days are on the 21st and 22nd July.