Land Rover and Bowler sign formal brand partnership agreement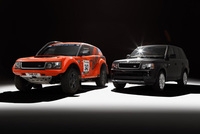 Land Rover and Bowler, the UK-based manufacturer of all-terrain performance cars and rally raid vehicles, have agreed to a brand partnership, formalising a relationship that has been in place for over a decade.

This new partnership will enable Land Rover and Bowler to realise even greater value from their relationship.

Under the agreement, "Powered by Land Rover" badging on Bowler's competition cars and across its marketing materials acknowledges the role that Land Rover technology plays in the performance and race success of Bowler products. The "Powered by Land Rover" branding will also be highlighted in joint event and promotional activities.

Bowler will benefit from access to components – powertrain and chassis engineering in particular – and technical and development support from Land Rover. In addition, the agreement provides a secured piece of ongoing parts business and allows Land Rover's engineers to stretch themselves creatively and technically on an extreme performance-orientated programme that brings further knowledge to the core road-going Land Rover range.

From its first competition vehicle of the mid-1980s, Bowler has based its racers on Land Rover technology. The company's latest models – the EXR rally raid competition car and the road-going EXR S – both use modified engines, chassis and other components from the Range Rover Sport.

Mark Cameron, Land Rover Brand Experience Director, Global Marketing, said: "Bowler vehicles demonstrate the kind of performance, ride, handling and chassis dynamics that a vehicle powered by Land Rover is capable of when taken to the extreme and liberated of most practical constraints.

"For over twenty years, Land Rover's technology has powered Bowlers on some of the toughest and most gruelling off-road sporting events in the world. We're proud to have been part of Bowler's success and, just as its latest models come to market, this new formal partnership will fully acknowledge the role of Land Rover technology in Bowler's high performance all terrain cars."

Drew Bowler, Managing Director of Bowler, said: "It is Land Rover's support as well as its technology that has helped Bowler to gain an incredibly strong reputation for extreme off-road performance over the last two decades. And as we embark on a new era for the business – introducing our first model engineered for use outside competition racing – I'm very pleased that the relationship has been formalised.

"With the extra confidence that comes from this brand partnership, I look forward to working with Land Rover to ensure that both parties realise the full potential of our collaboration. With bold and ambitious plans, I'm sure that there are exciting times ahead in which both parties will enjoy positive benefits for our respective brands."

Bowler EXR and EXR S

Bowler pioneered rally raid cars in the UK and is a global market leader in the production of racing and all-terrain performance vehicles, all of which are Powered by Land Rover. Following in the footsteps of its predecessors – the Bowler Wildcat (produced from 1997 to 2007) and Nemesis (2006-2011) – the new EXR was designed, developed and produced to compete in the world's toughest rally raid events, including the Dakar Rally, the Silk Way Rally and those that comprise the FIA World Cup for Cross Country Rallies. These off-road events last between three and 15 days, with up to 900 kilometres covered each day.

Several generations of Bowler models, including the latest EXR model, will be competing in the Rally Reykjavik (Iceland) in September and will be supported during the event by Bowler's factory service crew.

The Bowler EXR rally-raid competition car – on sale from £145,000 plus local taxes – fully conforms to FIA T1 specifications. It uses a modified version of the naturally-aspirated 5.0-litre V8 Range Rover Sport petrol engine, which is restricted to 300 bhp maximum power and 582 Nm maximum torque in line with FIA restrictions. The EXR is fitted with a six-speed manual gearbox and Ricardo front, centre and rear differentials.

Building on the brand's strong heritage, the new Bowler EXR S is the first Bowler engineered for road use. It shares the EXR's hydroformed base chassis (with the engine moved 300mm rearward) and various switchgear, light clusters and grilles, all from the Range Rover Sport. The EXR S also shares the same strong and lightweight composite body panels with its competition-bred stablemate.

The Bowler EXR S is fitted with a modified version of the Range Rover Sport's supercharged 5.0-litre V8 producing 550 bhp and 705 Nm. With such power and torque available in a package as light as 1800 kg, accelerating to 60 mph takes just 4.2 seconds and top speed is limited to 155 mph. The EXR S boasts the six-speed ZF automatic transmission and E-diff from the Range Rover Sport 5.0-litre V8 Supercharged.

The Bowler EXR S Powered by Land Rover is priced from £155,000 plus local taxes and will make its international debut at the Goodwood Festival of Speed (28 June-1 July), where it will be on display at the Bowler Off-Road Activities Field.