Energy savings at Oak Tree Court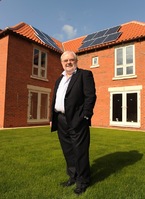 With their grandchildren's futures firmly in mind, Bob and Judy Burlton are taking a long-sighted approach to choosing a sustainable new home in Nottinghamshire.

The couple, who are moving from Oxfordshire to be closer to the youngest members of their family, already share a keen interest in energy-saving issues. Now they have teamed up with local developer Chebsey Estates to create a luxury home at Oak Tree Court in Tollerton that will suit their lifestyle and cut their carbon emissions significantly.

Mr Burlton (63), former chief executive of the Midcounties Co-operative, co-founded the Energy Saving Co-operative in his retirement. This supports the reduction of the carbon impact of Britain's 26 million existing homes.

"With a fourth grandchild due in May, our main reason for moving to Nottinghamshire is to be closer to our family," said Mr Burlton. "But this has also given us the opportunity to move to a home with excellent eco credentials. Homes at Oak Tree Court sparked my interest because of their environmental performance, and the fact that Chebsey Estates offered to work with us to adapt the design of the property under construction to suit our preferences.

"As a result, we have adapted the layouts to our lifestyle, adjusting the positioning of interior walls, as well as choosing finishes such as tiling and units. We have been very impressed by the willingness of the architects and designers to consider our thoughts and, as they have got to know us, to make positive suggestions that they feel might interest us."

While the flexibility of the overall design is giving Mr and Mrs Burlton greater control over the look and feel of the home they have purchased, it is the energy-saving features that have impressed them most.

"For us, this was the deciding factor in why we chose Oak Tree Court over other houses for sale in Nottinghamshire," added Mr Burlton. "Making an older property more energy efficient can increase the cost of moving dramatically, and so a saving on the purchase price is a false economy. I worked out that one older house we had looked at would need around £75,000 spent on it to make it perform to a standard similar to homes at Oak Tree Court.

"We were looking for a house with an Energy Performance Certificate rating of C or above, and with solar panels installed, the house we have purchased will be near A-rated."

Mr and Mrs Burlton's new home benefits from state-of-the-art technologies that are included as standard at Oak Tree Court.

A virtually silent air source heat pump draws heat energy from outside air and acts as a mini power station so that up to around three-quarters of heating and hot water can be provided for free. This cost-efficient system is teamed with warm water underfloor heating in every room, which uses around 85% less energy than hot water radiators. A carbon-neutral log-burning stove is also included, and is designed to burn wood so efficiently that it emits no more carbon dioxide than wood left to rot naturally.

Because the new homes are virtually airtight to reduce heat-loss, Oak Tree Court homes have advanced ventilation systems that extract stale air and moisture, and circulate fresh, temperature-controlled air throughout.

"All these things add up to an excellent energy performance rating and I feel very satisfied that our new home is equipped for the future," said Mr Burlton. "When we looked at homes for sale in the Nottinghamshire area, very few could achieve A-rated energy performance. For people like us, who look at our grandchildren and want the best future for them, choosing a home at Oak Tree Court makes perfect sense."

With only four homes remaining for sale and interest running high in the remaining plots, house-hunters interested in talking to Chebsey's architects and interior designers about bespoke options at Oak Tree Court should get in touch by visiting oak-tree-court.co.uk. Prices start from £569,950.