Kangaroo Island Art Feast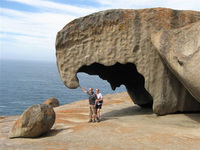 Kangaroo Island Art Feast opens on Friday evening on the 28 September. The 10-day Art Feast celebrates the art, food and wine of Kangaroo Island. Each venue exhibits art and many also offer food and wine or spirits. Artists, chefs and winemakers are Kangaroo Islanders or have a strong connection to the Island, and Kangaroo Island produce is central to the culinary experience during Art Feast. Kangaroo Island Art Feast, which began in 2003 as a weekend event, now boasts 30 venues from east to west across the island, about 150 artists, many chefs and wine makers.
Why not take in the Art Feast on a private tour with Kangaroo Island Wilderness Tours. Kangaroo Island Wilderness Tours provides a unique nature and wildlife experience that is recognised worldwide. The company was established in 1992 and continues to provide a quality soft adventure product. Our local guides (most of whom have lived on the 'Island' all their lives) will take you on a journey of discovery of Australia's leading wildlife destination. They will surprise you with their knowledge and do it all with a sense of fun and enjoyment.
Kangaroo Island Wilderness Tours is in a unique position to be able to offer private, exclusive touring in the most luxurious 4WD's available on the island. Tour in Land Rover Discovery Series 3's with all leather interiors with each passenger enjoying individual forward facing bucket seating. This allows for an unsurpassed level comfort and style.
Private touring allows for greater flexibility over a set itinerary where you will need to be mindful of other traveller's requirements. It will be just up to you and your guide; so visit as many of the venues and see as many exhibits as you please and then your experienced driver / guide will take you to all the best sights including beautiful landscapes and unique wildlife.
Kangaroo Island Wilderness Tours also offer their own exclusive accommodation, Seascape Lodge on Emu Bay. Seascape Lodge is set on five tranquil acres in a spectacular coastal location on the sheltered north coast of Kangaroo Island; your hosts provide a personalised experience that starts the moment you step foot on our unique island. Elegant home style cooking and Kangaroo Island wines enjoyed with warm, friendly hospitality are all part of the package.
Visit wildernesstours.com.au for more information.