Kenwood multimedia system with DAB technology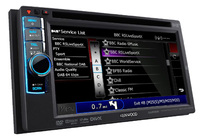 Introducing the first multimedia system from Kenwood Electronics featuring cutting-edge digital radio technology. The all-new DNX4210DAB offers playback of hundreds of radio stations at the touch of a button - giving you instant access to sport, news, jazz, classic, rock evens 60s,70s and 80s music.

The easy search system makes finding the right station quick, and once tuned in the latest technology means that listening to digital radio on the move is free of annoying breaks and distortion.

Multimedia System
iPod hook-up, full European Navigation, seamless Bluetooth mobile phone integration and DVD playback all bought to you via touch-screen technology and a super-fast Central Processor Unit make this the ultimate multimedia system.

Digital radio has something for everyone.

Price
Suggested price £999.95

About Kenwood Electronics
Kenwood is one of the world's leading manufacturers of high quality in car multimedia and two way radio Communication products.

Since its entry into the car electronics market in 1980 Kenwood has constantly introduced new products that changed the boundaries of what is possible.

Now part of the J&K group Kenwood, has direct access to new areas of technology including advanced digital platforms allowing greater integration and "all in one "solutions.