Cultural escapes for solo travellers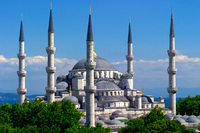 Singletons wanting to indulge themselves with a luxury getaway to some of the most beautiful cities in the world need look no further than Fusion Escapes, a smart new concept developed for single professionals who specialise in five star breaks unlike any other experience offered by other solo travel companies.
Fusion Escapes are not 'dating' holidays; a typical Fusion guest is busy, successful and career-minded, who values the finer things in life and merely wishes to spend some of their holiday time with like-minded people.
Offering a variety of different types of holidays, Fusion Escapes include a luxury Discovery option, where holiday makers can completely immerse themselves in the culture of their chosen destination and take in the local cuisine, architecture and art. Relaxation time and a number of exclusive day trips are also on the agenda, not to mention five star accommodation!
Travellers have the choice of The House Hotel Nisantas?, voted the best boutique hotel in Istanbul and within walking distance from the city's stunning cultural and historical monuments. From the Boscolo Exedra Roma, holiday makers are picked up from the hotel on Vespas and given an authentic tour of Rome.
At the Buddha Bar Hotel in Prague there is a walking tour of the architectural and cultural delights of Prague Castle and Old Town, and last but not least, the Palais Imperial Hotelin Marrakech provides a private jeep tour into the Atlas Mountains and tours of the Medina and Souks.
Everyone's ideal holiday is catered for as Fusion Escapes also offers; Active, Gastro, R&R and Nights themed trips to ensure that Fusion travelers can find their ideal trip abroad and meet like-minded individuals with similar interests. Fusion Escapes provide full itineraries for all holiday-makers, so all that is left to do is relax.
Fusion offers Discovery escapes with prices starting from £1240 per person. More information on the variety of Fusion Escapes resorts and themes is available at fusionescapes.com.