Chevrolet steps up its fleet offering with super-efficient Cruze range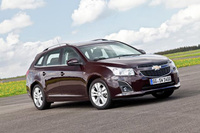 The Chevrolet Cruze Station Wagon has made a strong fleet debut at this year's Company Car in Action event. Set to launch in the UK this autumn, the latest sporty addition to the vibrant Cruze range was well received by the UK's top fleet professionals, who commented on the car's supreme driveability, elegant looks and high quality finish.

"Delegates who drove the Cruze commented that it exceeded their expectations across the board," explains Gavin Cook, National Sales Manager – Rental and Motability, Chevrolet. "Both the Cruze Station Wagon and Hatchback offer outstanding fuel efficiency and emissions performance. Add to this great performance and comfort, and the Cruze range presents a highly compelling offer for UK fleets."

The Chevrolet Cruze range, which features a diverse selection of Station Wagon and Hatchback models, is characterised by its dynamic performance, a spacious, comfortable interior and generous standard equipment levels. The Chevrolet Cruze Station Wagon 1.7 VCDi emits just 119g/km, while its Hatchback equivalent produces 117g/km, meaning it qualifies for free road tax in the first year; and makes it an attractive option for fleet customers and drivers alike.

With the pricing for the Cruze Station Wagon announced last week, Chevrolet is anticipating high demand for its Cruze vehicles among fleets across the country.

For further information about the full Chevrolet range of vehicles, visit chevrolet.co.uk.