2014 C7 Corvette Stingray to star at NEC show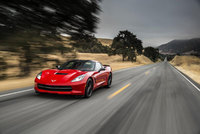 Britain's biggest classic car show kicks off this weekend, but it won't only be exotica from years gone by that will draw the crowds.

Chevrolet will be using the event for the official public debut of the 2014 C7 Corvette Stingray, which goes on sale in the UK next year priced from £61,495. The car will form part of the Classic Corvette Club stand, where enthusiasts will be celebrating 60 years of the USA's most iconic sports car.

Chevrolet Head of Marketing, Rebecca Lawman, said: "Enthusiasts make up the backbone of the Chevrolet brand, and there's no single Chevrolet model that attracts more fans all over the world than the Corvette. We're absolutely delighted to be supporting the Classic Corvette Club at this event as they really are true ambassadors for the car and the Chevrolet brand."

The C7 will also lead the opening parade lap of next week's Beaujolais Run, of which Chevrolet is a partner, in celebration of the model's anniversary.

The Beaujolais Run is a navigational shootout through a cryptic checkpoint course, which begins at the Royal Automobile Club's Woodcote Park and ends in deepest Burgundy. The Run attracts an impressive array of teams each year piloting vehicles from everyday road cars to supercars, and aims to provide 'money can't buy experiences' to its participants, as well as raising money for worthwhile causes.

Rob Bellinger, Director of The Beaujolais Run, said: "We were delighted Chevrolet agreed to be our celebrated marque this year. To be able to use such an evocative setting like Brands Hatch and to debut the brand's latest performance cars on the Run is a great privilege."

For more information on Chevrolet or the all-new Corvette Stingray go to chevrolet.co.uk.