Chevrolet's new Camaro makes first appearance in Europe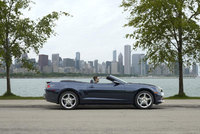 At the 65th Frankfurt Motor Show, Chevrolet will debut the new Camaro convertible and coupe. Featuring a fast, low-slung silhouette and Chevrolet's new MyLink connected radio, the latest edition of the famed American muscle car represents the most significant redesign since the introduction of the fifth-generation Camaro as a concept car in 2006.

"Camaro has always been associated with iconic design, high performance and driving fun, and we are particularly proud of the new coupe and convertible models," said Dr. Thomas Sedran, President and Managing Director, Chevrolet Europe. "They incorporate new high-tech features that add extra convenience and give customers even more value for their money," Sedran added.

Enhanced aerodynamics

The new Camaro boasts improved high-performance aerodynamics that provide more efficient cooling and stability at high speeds. The front fascia has a wider lower grille and a narrower upper grille, while the functional bonnet vent helps reduce heat and aerodynamic lift. At the rear, a sculptural deck lid, horizontal lamps and a diffuser complete the new design. Both the coupe and the convertible sport a spoiler with integral antenna.

Power is supplied by the proven 6.2L V8 engine which is mated to a six-speed manual or an automatic transmission.The automatic transmission model includes active fuel management and cam phasing (VVT). The manual transmission version churns out 432 hp (318 kW) at 5,900 rpm and a torque of 569 Nm at 4,600 rpm. 0 – 62 mph acceleration is 5.2 seconds for the manual coupe and 5.4 seconds for the manual convertible

Interior offers modern convenience and connectivity

Entering the new Camaro is straightforward and comfortable, thanks to standard remote keyless entry; on the automatic variant, customers can opt for a remote engine start functionality. Leather-appointed power adjustable Recaro sport bucket seats can be selected in the front for the coupe variant.

Further interior highlights include a new colour heads-up display and the new Chevrolet MyLink connected radio that is located in the centre stack. The radio is built around a seven-inch high resolution full-colour touch screen and has a clean, icon-based display menu.

The new Chevrolet MyLink connected radio allows users to open phone books, personal playlists, and photo galleries from compatible smartphones. Connectivity will be provided through USB, Bluetooth and aux-in. In addition to voice recognition, the system offers text-to-speech capability*, which allows users to listen to text messages from their smartphone. A rearview camera is standard.

In addition, customers can opt to purchase an integrated navigation system with coverage of all of Europe. As is the case with all Chevrolet MyLink radios, owners will be able to upgrade the new system with dedicated apps once they become available.

Competitive price tag for a true muscle car

The new Camaro will arrive at select Chevrolet dealerships across Europe towards the end of the year. With prices starting from £35,320 for the coupe and £40,320 for the convertible in the UK it is a compelling choice for performance-oriented drivers.

There is, however, much more to the Camaro than great value and affordability. Its rugged strength, iconic design and unique muscle car attributes have stolen the hearts and imaginations of countless people and have provided subject matter for wall posters, T-shirts, and songs for decades.

Famously described to journalists in summer 1966 as a "small vicious animal that eats Mustangs", the original Camaro was built around a unibody structure and a 3.9L straight six engine. Since then, five progressively more capable generations of the Camaro have thrilled car fans around the globe. Until 1968, Camaros were assembled from complete knock down kits (CKD) at two General Motors' European plants in Antwerp, Belgium, and Biel, in Switzerland.

Performance has always been an essential ingredient of Camaro's DNA and consequently, it has seen action in many forms of auto racing, including the spectacular drag races, where specially prepared vehicles, usually two at a time, compete along a straight course to make it first across a set finish line.

As much a part of Americana as apple pie and baseball, Camaros have featured in several Hollywood movies, such as runaway bride (1999), a walk to remember (2003), and, of course, Transformers (2007, 2009, 2011), in which the Chevrolet Camaro sports car had a starring role as Bumblebee.

In March 2013, the most recent edition of the Camaro Z28, considered by many to be the most iconic and exclusive model in Camaro history, was unveiled at the New York Auto Show. Powered by a 7.0L V8 engine developed in conjunction with Corvette Racing and capable of churning out an estimated 500 hp (373 kW) and 637 Nm of torque, the new Camaro Z28 is suitably equipped to live up to the nameplate's proud heritage.

* Availability of voice recognition and text-to-speech in local language will vary across markets.