Major new centres float Abu Dhabi's water sport destination ambitions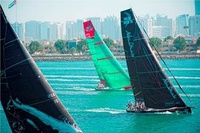 Visitors to Abu Dhabi will soon enjoy a far wider choice of world-class water sport facilities than ever, as several leading internationally-accredited sailing centres of excellence come on line.
The increased development of on-water activities, a major fillip in the emirate's ongoing pursuit of establishing international credentials as a premier winter water sports destination, follows hot-on-the-heels of Abu Dhabi's historic hosting of the Volvo Ocean Race - the gruelling round-the-world sailing odyssey - in January of this year.
Abu Dhabi's swelling water sports activation is spearheaded by the Abu Dhabi Sailing & Yacht Club (ADSYC), which is now based at the 55,000m² Volvo Ocean Race Destination Village site on the UAE capital's Corniche breakwater created for the Race by Abu Dhabi Tourism & Culture Authority (TCA Abu Dhabi).
ADYSC will open its Sailing & Rowing Academy with a winter training programme in September 2012, with courses for optimist, laser, catamaran and keelboat classes. All instructors will be certified by the Royal Yachting Association (RYA). Within a year, the centre will be RYA recognised, allowing it to provide students with internationally-accepted certificates at the end of the courses. Open to visitors and residents alike, ADSYC will cater to walk-in guests and offer everything from daily boat rentals to full developmental training programmes.
"The Volvo Ocean Race has spurred the development of sailing in Abu Dhabi, in particular our ambition of developing serious home grown sailing talent. Abu Dhabi has a long heritage of sailing and we wish to continue this tradition by developing strong youth sailing programmes We want to expand the number of competitors in youth sailing and work towards opening up our facilities to visitors eager to experience Abu Dhabi's beautiful - and plentiful - waters," said Majed Ateeq Al Mehairi, CEO, ADSYC.
"One of our objectives is to create a development path which allows and encourages young sailors to progress in the maritime industry as shore crew, sailing instructors and all the way up to professional yachtsmen. For this we are working to develop certification programmes and host keel boating, match racing and yachting regattas in Abu Dhabi. In addition, given Abu Dhabi's increased prominence as an emerging sailing destination, we want to facilitate ease of access for inbound tourists looking to have their own on-water experiences," said Al Mehairi.
The move to introduce internationally recognised RYA courses is expected to increase the emirate's appeal to visitors as the new measures will make it simpler and safer for qualified visitors to rent boats with minimum fuss.

"For visitors looking to gain additional qualifications during a holiday, they can now take a course with us that will be valid overseas - this gives the emirate a greater depth of offering and spreads our global appeal," said Al Mehairi.
Additionally, the UK's Cowes-based Pelican Racing expects to open its own RYA Recognised Training Centre in Abu Dhabi this October. The Pelican Marine Sports Academy (PMSA) will be based at the 131-berth Al Bandar Marina and will be Pelican's first international sailing school outside Britain.
"Abu Dhabi was selected as the first overseas site for our Cowes training company based on factors such as growth potential, attractiveness as a winter sailing destination for European sailors, and simply because the destination is extremely well suited to sailing. The potential to all concerned was obvious," said Ian Gilmour, Managing Director, PMSA.
"We formed the company just as the Volvo Ocean Race was announced. Abu Dhabi involvement in the race illustrated the destination's seriousness about sailing and encouraged us to get involved. We plan to be part of the emirate's Volvo Ocean Race legacy and ensure - at the grassroots level - that people young and old can get top quality sailing tuition," said Gilmour.
"We need to get the whole sailing eco system working. That means not only offering RYA recognised sailing tuition, but creating individuals and companies that are skilled in boat and sail repair, engine maintenance, sailing holiday packages and staging regattas to attract pro sailors to the region."
The sentiments were echoed by Belevari Marine's Founder and Managing Director, Capt. Berend Lens van Rijn, who has been offering yacht charter and sailing experience in Abu Dhabi since 2004, and started his own training courses on July 1st.
According to Abu Dhabi's 2030 plan, the government hopes to set up 45 marinas with enough space to cater to 10,000 luxury yachts on top of the current six that expect to serve up to 1,600 vessels over the next 20 years.

This is in line with Abu Dhabi's hotel guest projections, which anticipate that the emirate will be welcoming 7.9 million guests a year by 2030.
For more information Abu Dhabi Ocean Racing, visit volvooceanraceabudhabi.com.