Land Rover celebrates one year of Range Rover Evoque production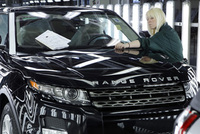 As demand for the Range Rover Evoque continues around the world, employees at JLR's Halewood manufacturing plant are celebrating one year of production.

Twelve months ago, when the first vehicle rolled off the production line, the Evoque had already generated an exceptional market response with more than 18,000 advance orders from customers worldwide. This interest continues today with demand for the Evoque driving sales of almost 80,000 units in just nine months.

With more than 110 global awards under its belt, the Evoque has gained critical acclaim from customers and media alike. Crowned Top Gear Magazine Car of the Year, World Design Car of the Year and North American Truck of the Year amongst others, the Evoque continues to receive plaudits for its concept car looks, dynamic driving performance, class leading off-road skills and excellent cost of ownership.

This early success for Evoque has had a significant positive impact on the Halewood facility. In anticipation of the launch in 2011, the workforce was increased to more than 3,000 employees. In March this year, JLR announced it would recruit a further 1,000 employees to help deliver the increased volume of both Evoque and Land Rover Freelander 2, which is also manufactured at Halewood.

In just three years the workforce has trebled and the plant now employs more than 4,000 people.

Halewood Operations Director Richard Else, said: "The Evoque is an incredibly exciting vehicle that continues to turn heads. Sales of the Evoque remain strong across all markets and here at the plant we are working hard to meet this demand."

The Evoque is designed, engineered and manufactured in the UK with more than 75 per cent of production exported to more than 170 global markets - generating an estimated £2 billion in annual export value for the UK.