Only seven homes left for sale at Bassaleg development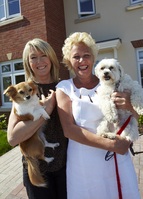 Just seven homes remain for sale at the sought-after Parc Eglwys development by Lovell at Bassaleg, ideally located between Cardiff and Newport - and homes at the scheme really do come highly recommended.
"Around a quarter of homes sold at Parc Eglwys have been through a recommendation from someone already living at the development – it makes us very proud that buyers are so pleased with their properties," says Lovell regional sales manager Kate Rees. Lovell in South Wales is equally delighted with the recent results of a survey of people who have bought new homes from Lovell in the region.
100 per cent recommend Lovell
The survey, carried out by In-house Research, found that 100 per cent of Lovell homebuyers would recommend the company – leading to a Gold customer satisfaction award for Lovell.
Among delighted homebuyers who have recommended Parc Eglwys to friends is mental health nurse Sîan Davison. Two of S?an's friends have moved in at the development after hearing how pleased she is with her new two-bedroom property. Her former neighbour in nearby Rhiwderin, Sam Titley, has moved in just down the road.
"I moved in January and Sam moved in April," says Sîan. "We've been friends for a long time and it's lovely to have her just round the corner again. I love it here and it feels as though I have lived here for ever. I'd been looking to downsize from my previous property for a couple of years but there were no suitable new-builds in the area. Lovell have been fantastic and my sales advisor Julie working tirelessly to make the move as easy as possible. I love the house and the area is so quiet with lots of wildlife – I even had a kingfisher in my garden the other day." Sîan moved into a two-bedroom Weston house style at the development where she lives with daughter Charlotte, 20, and poodle / Maltese cross Ollie.
Beauty therapist Sam says: "I wanted to stay in this area but thought I might be priced out. For me, the house was perfect and so was the price. I have a great outlook and the house is beautifully designed, I love all the finishing touches." Sam lives with her daughter Bethan, who is at school locally, while her other daughter Sophie is also at home during university holidays. The other member of the household is chihuahua / Jack Russell cross Roxie.
The small number of homes available for sale at Parc Eglwys include a range of semi-detached and mews-style three-bedroom properties. The popular three-bedroom semi-detached Raglan house style is available from £180,950 while one mid-terrace three-bedroom Westwood house style is available at £179,950. There are also just three of the Bowood house types still for sale, priced at £184,995. The company has a number of incentive schemes on selected plots, including a five per cent deposit paid offer or its Match and Move scheme through which Lovell will match a deposit of up to ten per cent of the purchase price of a new Lovell home with an interest-free, ten-year loan.
"This has been a fast-selling development, helped by a brilliant location," says Lovell regional sales manager Kate Rees. "Parc Eglwys offers people the chance to live in a village, with countryside nearby, yet it's also simple to travel to Bristol and Swansea with Junction 28 of the M4 just over a mile from the development. Newport offers shops and entertainment, with Cardiff also easy to get to, and there are some great outdoor leisure activities locally, including a wetland nature reserve."
Visit lovell.co.uk for further information.