Charley Boorman gets Intrepid in South Africa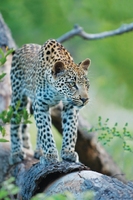 Adventurer and presenter Charley Boorman explored Kruger National Park with Intrepid Travel in July, for a new series of Extreme Frontiers which will air on Channel 5 later this year.
Boorman and his film crew spent three days with Intrepid traversing the Lebombo Eco-Trail in four-wheel drive vehicles for a 'wilderness experience on wheels'. They got up close to Africa's greatest wild animals, enjoyed traditional bushveld dinners around the campfire and stayed at wilderness campsites.
They also took a cycle tour of Soweto with Intrepid Travel, where Charley met locals and heard what life is like for the 3 million people that call the township home.
Intrepid offers more than 40 different trips in South Africa, from Urban Adventure day tours through to a 20-week overland adventure. Its best-selling tours in South Africa are the four day Kruger Experience with lodge accommodation which starts at £513pp, and the four-day Kruger Express with campsite accommodation which starts at £395pp.

Visit intrepidtravel.com for more information.