Land Rover proves its strength in UK storms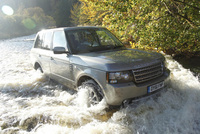 The tough, go-anywhere capabilities of Land Rover vehicles are proving invaluable as people across Britain suffer the consequences of torrential rain and flooding. With continued flood warnings across the country this week, Land Rover's award-winning range of go anywhere vehicles provide peace of mind and have been keeping Britain on the move.

For everyday motorists, Land Rover vehicles provide strong and effective engineering and design that can keep them safe and on the road as the summer's extreme wet weather continues.

Weeks of rain have triggered flash floods, forced people from their homes and washed out major public events.

Having a clear view of the road ahead is important when roads may be awash and a raised, command driving position is a feature of all Land Rover models. It's typical of summer storms that strike in a moment, which makes the automatic wipers and headlights fitted to almost all models a further benefit while at night, adaptive headlamps, which give directed illumination as the vehicle is steered through bends, help make for safer driving.

A comprehensive array of active safety systems, including ABS, electronic brake assist, traction control and dynamic stability control are offered, and an intelligent all-wheel drive system automatically adjusts drive between the front and rear axles to achieve the best grip.

In more challenging conditions, Land Rover's innovative all-wheel drive technology is both effective and easy for the driver to engage. Terrain Response® adapts vehicle systems to cope with different off-road environments at the push of a button, whether it's a sodden field, or more extreme mud and ruts.

According to model, camera systems can relay a 360-degree real-time image of the area immediately around the vehicle to help plot the safest course when the going gets really tough. Even when floods strike, Land Rovers are designed to keep going, with wading depths up to 700mm.