MG Birmingham help drive world success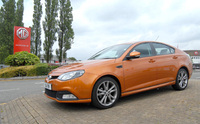 SAIC Motor, the parent company of MG, is continuing to accelerate the business at a phenomenal pace.

Increasing sales of MG cars worldwide has helped to push the company into the top ranks of the prestigious Fortune 500 World rankings. In the past few years the firm has rocketed from 461st place to now stand at the 130 spot.

The American Fortune magazine has just released the figures for 2012 showing that SAIC Motor climbed a further 21 places in the listing this year alone spurred on by a sales income of $67.25 billion.

MG Motor UK is SAIC's first car operation in Europe and the MG brand is now being introduced to new markets throughout the world, with engineers and designers in Birmingham being at the heart of the expanding operation.

SAIC Motor has joint venture operations with both GM and Volkswagen, however the star performer has been its wholly-owned brands of Roewe (the China-only brand) and MG. During the first half of 2012 sales of Roewe and MG grew by 12.2%.

Overall SAIC's sales of vehicles in the first six months of this year hit 2,232,597, an 11.4% increase and set a new record despite the pace of the market slowing overall.

There was success too for SAIC's joint venture with VW with a growth of more than10% in the first six months. The GM joint venture saw sales grow by more than 9.7% and Shanghai General Motors' cars still occupies the number one spot for sales in the Chinese market.

In the first half of 2012 the high-end Roewe 950 model was introduced to the China market along with the MG5 saloon. Much of the design and engineering work on the MG5 was carried out at the MG Birmingham site.

SAIC is continuing to increase investment in research and development both in China and the UK. Work is about to start on expanding the Design Centre at the MG Birmingham site which will double the size of the existing facility and an advanced Engine Test Cell facility has recently come on stream.

In China SAIC Motor is leading the quest to bring new "green technology" vehicles to market, again with input from specialist engineers in Birmingham.