World's fastest men on track with MG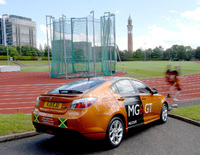 Some of the fastest men in the world, who want to go even faster, are in MG6 cars.

MG has supplied a fleet of cars to the Jamaican and USA Track and Field Training Camps where some of the world's top athletes, including sprint stars Usain Bolt, Yohan Blake, Asafa Powell andTyson Gay, are training.

Both camps are in Birmingham with the Jamaicans based at the University of Birmingham's Munrow Sports Centre and the Americans at the city's Alexander Stadium in Perry Barr.

Award-winning MG6 GT fastback and MG6 Magnette sports saloons have been loaned to the camps to help the athletes get around during their stay. The cars are emblazoned with the Jamaican and USA national flags.

It's hoped some of the athletes may get the opportunity to visit MG Motor UK's site in Lowhill Lane, Birmingham to see where the MG6 cars are designed and engineered, and where final assembly also takes place.

Gary Egan, MG's Senior Operations Manager, said: "We are very proud to support both the Jamaican and American training camps. The MG6 cars will swallow all their kit bags with ease and the cars will help them get around Birmingham in comfort and style."

Birminghamhas gone athletics crazy with more than 300 sports fans volunteering to help out at the track and field camps. Local schools have been given invitations to watch the athletes train. Both the Americans and Jamaicans will attend a special service at St Philip's Cathedral on July 21 and there will be a civic reception at the Council House on July 22.

The Jamaicans will stage a special training event at the Munrow Sports Centre which is expected to attract 700 Press and other by-invitation only VIP guests. They will enjoy a splendid welcome dinner at the University of Birmingham and will be guests of honourat a Jamaican 50th anniversary concert at Birmingham's Symphony Hall on July 25.