Emirates Palace is the perfect holiday haven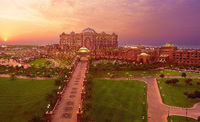 As Olympic fever takes over this summer, why not escape the crowds and commotion to indulge and unwind at Abu Dhabi's iconic Emirates Palace. This world-class luxury destination is a veritable haven of peace and tranquillity - the perfect choice for those suffering 'Olympic overload!'
Not only this, but Emirates Palace is also offering a series of 'Fabulous summer at the Palace' exclusives to its guests.
Make the Palace your own!

Join royalty, world leaders and celebrities at their 'favourite home' this summer. Feel like a King or Queen amidst the lush landscape and exquisite surrounds, and embrace the VIP treatment with a personal butler service and in-room treats!
'Dine Around' experience

Meet friends and family for a unique 'Dine Around' culinary journey in the Emirates Palace. Begin your evening with an aperitif at 'Havana Club', sample an Emirati starter at 'Mezlai', master your main amidst Venetian motifs at 'Mezzaluna' and devour a delicious dessert at 'Le Café'.
Learn, make, taste

Discover the art of cocktail making at the 'Havana Club' - learn to mix, muddle and mash your favourite tipple, from enduring classics to modern concoctions under the guidance of resident experts.
Book a Khaleej Suite, receive a bottle of Champagne and enjoy VIP access to 'Etoiles'

For a truly special holiday, enjoy a luxurious stay with a glass of champagne upon arrival and a highly-coveted VIP table at Abu Dhabi's infamous nightclub 'Etoiles'. Wake to the elegant grandeur of a Khaleej Suite and discover the delicious taste of breakfast from "La Vendome Brasserie"
Cigar & Spirits evenings at 'Havana Club'

Combine the sophisticated scents of the finest cigars with lively conversations and live Jazz at the 'Havana Club'.

Summer at the Palace beach

Make your dream a reality with a breathtaking day on the Emirates Palace beach – with beautiful white sands, specifically chosen for purity, quality and touch. Cleaned with environmentally conscious products, this really is the purest beach experience.
Book a Diamond room and enjoy a sunset cruise for free

'Soak' up the Arabian Luxury and enjoy a sense of calm and well-being with a magnificent two hour sunset cruise aboard a beautiful Catamaran down the Corniche. Upon your return, sample Palace living in a Diamond room, offering panoramic views across the Arabian Sea…simply refreshing!
Celebrate your special day at the Palace

Celebrate your birthday in style amidst the splendor of Emirates Palace. Tantalise your taste buds with exotic flavours at 'Le Vendôme Brasserie' and blow out the candles on your complimentary cake! Should your party be larger than 6, we will also treat one of your guests to dinner for free.
'Camel Burger' junior chefs competition

This summer, families with children from 6 to 12 years are invited to submit crazy recipes for the best 'Camel Burgers' competition. The winning recipe will be rewarded with dinner for all the family (up to 5 persons) at 'Le Vendôme Brasserie' restaurant.
A relaxing weekend at the SPA

Cool off with the promise of radiance and well-being. Discover uncompromising indulgence, legendary Arabian hospitality, a personal butler service and a memory you will treasure forever in one of the beautiful Pearl rooms. Restore balance and harmony between body and mind with a massage in our heavenly Anantara Spa.
Situated on 1.3km of pristine white shores, Emirates Palace is the ideal summer family getaway. With an array of unrivalled facilities, 100 hectares of lush landscaped gardens, the finest international cuisine, and an impressive 394 magnificent rooms and suites, Emirates Palace has become a global icon for luxury, style and sophistication. Showcasing Arabic culture at its best, Emirates Palace delivers impeccable service and hospitality, leaving you to simply sit back and enjoy your stay.
Ease yourself into the Emirates Palace pace of life at the award-winning Anantara Spa and enjoy one of the many heavenly treatments and therapies on offer. Alternatively spend the afternoon lazing in the Las Brisas Pool – complete with swim-up bar, gazebo jacuzzi and inspired hammock pool – or stroll the private pristine sands that line the Palace's turquoise shores.
Those looking to truly indulge can enjoy the Palace's myriad internationally-acclaimed restaurants. From Mezlai, the first Emirati Restaurant in the UAE, to the Time Out award-winning Italian Mezzaluna, the glamorous Hakkasan and the traditional Lebanese Diwan L'Auberge, Emirates Palace offers something different and exciting for each and every night of your stay.
To ensure the 'younger' visitors also have a highly memorable stay, Emirates Palace has recently launched the new Palace Kids experience. All visiting 'Princes' and 'Princesses' will be appropriately pampered and children will be treated to their very own regal check in, in-room treats, games and a weekly 'Magical Journey' behind the scenes of this enchanting Palace.
But if the young (and young at heart!) still can't resist athletic endeavor, Emirates Palace offers a wealth of sports and entertainment facilities including tennis, watersports, scuba diving, camel-back safaris, falconry displays, wildlife walks and much, much more. Meanwhile, large screens showing the 2012 Olympic and Paralympic Games can be found throughout the hotel to ensure that you don't miss out on any of the action!
Mr Bugra Berberoglu, Emirates Palace General Manager comments "As the crowds descend on London this summer, Emirates Palace offers the perfect escape for frantic families wanting to switch off and relax. Our world-class hospitality, luxurious accommodation, fine dining and remarkable array of facilities make Emirates Palace the ultimate Olympic getaway."
For more information, visit kempinski.com.