Finding "Me Time" - Grand Hotel Kronenhof launches Digital Detox package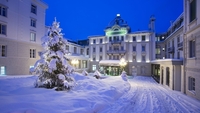 If only we could put down our electronic gadgets for a day or two, the benefits would be manifold. Research proves we become more peaceful, breathe more deeply and slow down when we're prised away from our precious phone. Not just that, we are more present, having deeper, more connected conversations with friends and family, and become more reflective, finding solutions for problems when we go for a walk, say, rather than staying glued to our social media channels. But it's easier said than done, which is why Grand Hotel Kronenhof is helping to make it happen on holiday.
Book onto one of its new Digital Detox weekends and all of your electronic devices will be taken from you at check-in to be stored in the hotel's main safe, well away from temptation. The Kronenhof then has a relaxing but well planned schedule to keep guests busy enough that they will hardly have time to miss their phones, tablets and/or laptops.
One morning will be spent learning ski yoga up on the slopes, followed by an afternoon of a detox bath, a 50-minute massage and a Pilates class in the Kronenhof Spa studio. The second day will start with an early (7:30am) sunrise hike, breakfast and a leisurely morning in the Spa (reading an old-fashioned book perhaps), with an energy-inducing massage to look forward to in the afternoon. The hotel's Vitality Menu (a light alternative with a strong vegetarian element) is on offer at the Grand Restaurant for the first two evenings, but gourmet treats await at Restaurant Kronenstübli on the third and final night.
The package is only bookable on certain weekends during the winter season: 8 to 11 December 2016, 15 to 18 December 2016, 12 to 15 January 2017 and 16 to 19 March 2017. Prices start from CHF1455 per person sharing a double room and include half-board, plus all the activities and spa treatments mentioned previously. To book, visit kronenhof.com.
You can rest assured that 72 hours not looking at any blue light will help to de-frazzle the brain and leave you feeling less anxious, more connected and completely recharged.