Make gin cocktails while the sun shines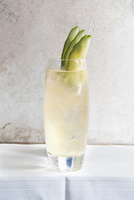 When the sun's out, cocktails are in, especially when they're made with gin. This summer, gin is making a big comeback, so get mixing this refreshing and modern take on the classic and quintessentially British Gin & Tonic.
Created by Oskar Kinberg, famed mixologist and co-founder of Dabbous bar and restaurant (39 Whitfield Street, London W1) the Martin Miller's G&Tea is delicate, extremely refreshing and best served long with lots of ice.
The perfect skinny cocktail if you're watching your waistline. Just 120 calories and, due to the agave syrup instead of sugar, it's low GI too! Price £8.50.
Available exclusively at Dabbous Bar this summer, or try making your own at home and impressing your guests with your mixology expertise.
Ingredients:
50ml Martin Miller's gin
10ml Crème de peche (peach liqueur)
15ml Fresh lemon juice
10ml Agave syrup
75ml Lemon verbena
All ingredients are easy to source (lemon verbena can be found in good tea shops). Brew the lemon verbena as for tea and let it cool before mixing. Hot tea will melt the ice and water down the taste.
Method: 'Build' in Collins glass with ice and stir.
Garnish: Stir the drink once more and garnish with cucumber slices.