Benidorm celebrates successful summer season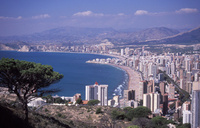 Tourism officials in Benidorm have reacted with 'shock and bewilderment' at a recent report in the UK press which suggests that the resort is being 'abandoned' by its British visitors.
Contrary to citings of 'empty beaches' and bars, a summer trends' survey released last week by hotel comparison website Trivago shows that Spain topped the list of the most popular holiday destination for July and August and Benidorm remains the No 1 resort choice for UK holidaymakers, welcoming 1.5 million visitors a year.
Director of Tourism for Benidorm, Yolanda Pickett Fernandez, states "UK visitor numbers to Benidorm grow year on year and we are very proud that Benidorm remains No1 on the list of best-selling destinations in Spain for the UK. Whilst Spain and indeed the whole of Europe, has of course felt the effects of the global recession, Benidorm's reputation as a unique, accessible and excellent value resort remains unparalleled. We have a very high percentage of guests who return year after year to enjoy 5 world class theme parks, 3 award-winning beaches and year-round sunshine, helping it fare better than many other resorts."
Tourism statistics by HOSBEC (The Hotel Association for Benidorm and the Costa Blanca) clearly show that whilst Spanish visitors are slightly down on last year, the number of British guests flocking to this popular resort has actually risen. Hotel bookings for June 2012 were up 2% on last year (and even 14% up for All-Inclusive hotels) as Brits enjoy the advantages of better Euro rates, lower prices and the superb value for money that Benidorm has always been renowned for.
In the last 10 years 90% of hotels have been upgraded and refurbished and 3 new 5* hotel resorts and golf courses have been added. A dramatic new seafront promenade, new sports centre, superb theme parks and many other attractions have all boosted the image of Benidorm, not to mention the booking surge attributed to the popularity of the cult TV show 'Benidorm', now in its fifth season.
Comments Fernandez, "Only last week we had ITV's 'This Morning' doing live broadcasts from the resort, filming on beaches, hotels and interviewing guests as well as cast members of the TV show 'Benidorm' stating how much they loved and enjoyed the resort and the special atmosphere we work very hard to create here".
She continued "We are now hitting peak season and the resort is certainly very busy. We have a huge programme of events underway for the summer season, including headlining music festivals, shows, and fiestas offering a superb range of entertainment for all".
The annual Lowcost Festival over last weekend is one of Spain's major music festivals attracting more than 57,000 visitors to see headline acts including Suede and Kasabian. The Electrobeach Festival 17 - 19 August promises to be an even bigger attraction with internationally renowned DJs and artists culminating in a global open air party at Terra Mitica theme park in the hills above Benidorm (electrobeachfestival.com).
With its unique microclimate thanks to the sheltering Sierra Cortina, Benidorm is the perfect all year-round resort just 45 km from Alicante airport and 140 kms km from Valencia, both served by major tour operators and low-cost flights from most UK airports.
Visit en.visitbenidorm.es for more information.