Enjoy the fun when the work is done at Hyatt Regency Trinidad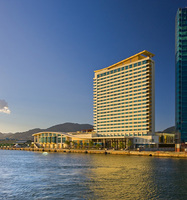 Hyatt Regency Trinidad, the most contemporary first-class meetings and conference hotel in the Caribbean, is encouraging business travelers to stay and enjoy a leisurely break when business is over. The hotel's full-service spa, rooftop infinity pool and central location in the bustling capital city of Port of Spain are just a few reasons why meeting planners from across the world are drawn to this leading Caribbean meetings and conference hotel.
Featuring 428 guestrooms and 43,000 square feet of meeting space, Hyatt Regency Trinidad offers the largest meeting space in the English-speaking Caribbean to accommodate world-class meetings, conferences and special events. From boardrooms to ballrooms, the hotel's expert team of conference and event coordinators, food and beverage managers and top entertainers can tailor effective and efficient corporate or social events of all sizes, ranging from 25 to 1,700 guests. With state-of-the-art equipment, multilingual staff and stunning waterfront views, there is no better place to take care of business in the Caribbean.
"Our hotel is consistently recognized as one of the top business and meetings facilities in the Caribbean," said Russell George, general manger of Hyatt Regency Trinidad. "We want to invite our business travelers to stay a little longer, have fun with their peers and experience our beautiful island and hotel as a leisure traveler as well."
When the meetings portion is complete, guests can take advantage of all of the hotel's amenities: an exclusive rooftop infinity pool and bar overlooking the Gulf of Paria; a wealth of indulgent spa treatments with indigenous ingredients at Spa Esencia; state-of-the-art equipment at the 24-hour StayFitTM fitness center; and a variety of culinary offerings that are sure to satisfy even the most discerning palates. After winding down, adventurous guests can have the chance to bond and incorporate an excursion around the island into a teambuilding exercise such as a visit to Maracas Beach, the most famous beach in the north of Trinidad.
Golf enthusiasts, meanwhile, can play a round at one of Trinidad's championship 18-hole golf courses, including the St. Andrew's Golf Club and Millennium Lakes Golf & Country Club. For those looking to explore more of this dual-island nation, a quick flight to Trinidad's sister island Tobago offers a day of lounging on beautiful beaches, enjoying a variety of water sports such as windsurfing and diving, bird watching or visiting a cocoa plantation.
For more information about meetings and conventions or reservations at Hyatt Regency Trinidad, visit trinidad.hyatt.com.