Vauxhall bolsters Astra range with hot new BiTurbo models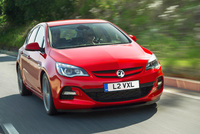 Hot on the heels of the GTC BiTurbo, Vauxhall is adding two more high performance diesels with 195PS and 400 Nm torque to its Astra range. The British-built Astra BiTurbo 5-door Hatch and Sports Tourer – which becomes the most powerful estate in its class – offer blistering performance, high levels of practicality and impressive frugality.

Both models have a top speed in excess of 135mph and can achieve 0-60mph in under eight seconds. The boost in performance does not compromise economy either, with low CO2 emissions of 134g/km and a combined 55.4mpg. Both models also benefit from Start/Stop technology.

Twin turbo technology is rare in this class and the Astra uses a sequential turbocharging system, with the smaller turbo accelerating quickly at lower speeds to eliminate 'lag', providing 320Nm of torque from 1,250rpm. In the mid-range of rpm, both turbochargers operate together, with the larger turbocharger pre-compressing the intake air, before it is fully compressed in the smaller one. A bypass valve is controlled continuously to pass on part of the exhaust gases to the larger turbo. As a result, the driver still enjoys smooth acceleration. At higher rpm (from around 3,000rpm) all the gases flow directly to the larger turbocharger, maintaining the fluid power delivery at higher speeds.

Built at Vauxhall's Ellesmere Port plant in Cheshire, the new derivatives benefit from the recent styling refresh that can be found across the Astra range. The aggressive new look includes a revised front grille, new front indicators and fog lamps, and refreshed rear-panel styling. Both BiTurbo models come with an array of unique features including 18" alloy wheels, twin rear exhausts, exterior styling pack and alloy sports pedals.

Available to order tomorrow, with first deliveries expected late 2012, prices start from £24,095 for the Hatch and from £25,110 for the Sports Tourer.

As with all Vauxhall passenger cars, Lifetime Warranty is standard, giving first owners the peace of mind of a warranty that lasts the car's lifetime, up to a maximum 100,000 miles.