Swahili Beach brings five-star glamour to the Kenyan coast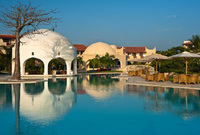 Swahili Beach is a new five-star resort on the famous Diani Beach on Kenya's south coast. The idyllic setting and inspired architecture capture the spirit of the vibrant Swahili culture of coastal Kenya.
Offering an air of sophistication unmatched at the Kenya coast, Swahili Beach has been designed with state-of-the-art technology to ensure minimal ecological impact. Lush tropical gardens and a striking eight-level cascading pool offer many options for cooling off and relaxing, whilst adrenaline-lovers can learn to kite-surf, scuba dive and more at the hotel's own Water Sports Centre.
All of the hotel's 140 rooms are furnished in contemporary Swahili style and feature extensive arches, carved niches and plenty of natural light. The fourteen butler-served executive suites offer a connected lounge & dining veranda, as well as stunning views over the tropical gardens or the Indian Ocean. Three Sultan suites have access to a private rooftop sun terrace and open-air lounge.
Baharini (meaning ocean) is quickly becoming the top lunch spot on Diani beach. This relaxed beach bar has been fitted out entirely in reclaimed dhow wood furniture and serves Italian food, including wood fire pizzas. Settle in for the evening on one of the low sofas made from local canoes filled with white cushions, with a dawa cocktail or two, the Kenyan 'caipirinha'.
Spice Route is the hotel's Indian/Swahili fusion restaurant, serving a delicious melange of Mughlai Indian dishes and Swahili specialities such as 'kuku paka' – chicken in coconut curry sauce.
Launching in October 2012, the Spa and Fitness Centre at Swahili Beach will have six luxurious treatment rooms with individual showers, including a double deluxe treatment room & changing areas with steam rooms.
Free WiFi throughout the hotel and a modern business centre ensure that guests can stay connected if they wish. Excellent conferencing facilities are also available in two well-equipped rooms for up to 150 delegates.
Swahili Beach is less than ten minutes away from the Ukunda airstrip, served by Air Kenya and Safarilink from Nairobi's Wilson Airport and 45 kilometres from Mombasa's international airport.
An overnight stay in one of the hotel's standard doubles, on a half board basis costs from £222 per room per night during high season.
For more information, visit swahilibeach.com.