Energy efficient homes on their way to buyers in Peterborough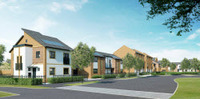 The first eco-friendly homes to be built at a major new housing development in Peterborough are to become available to buyers from this September.
Construction is underway at Vista, a landmark 295-property site on London Road in the South Bank area of the city, including the build of the development's first show home, which will offer buyers a glimpse into the exclusive properties.
Vista, which is being built by housebuilder Morris Homes, is at the forefront of energy efficient development and will provide local people with quality, affordable homes built using cutting edge, sustainable technology.
The site's highly insulated two, three and four-bedroom properties will be built with energy efficient elements such as solar thermal panels, features to reduce water consumption and an advanced boiler that recovers waste heat - lowering homeowners' household bills.
The first phase of 60 homes at Vista are due for completion next spring and will kickstart the regeneration of the South Bank area.
Cindy Vials, sales director at Morris Homes, said: "Vista is a flagship new site for us, bringing the largest development of its kind in the UK to Peterborough, and buyers will soon be able to purchase one of the fantastic, energy efficient properties being built at the site.
"The homes at Vista are not only some of the most environmentally friendly on the market, setting the benchmark for future 'green' builds, but are also packed full of beautiful design features making them a real asset to the area. We've had a surge of interest in the properties at Vista since we started the build so I would encourage buyers to register their interest in these homes on our website."
Morris' Vista development is being supported by the Homes and Communities Agency and Peterborough City Council. Morris is working alongside architects Barnett North LLP and landscape architects Barnes Walker on the scheme.
Cross Keys Homes will be providing the affordable housing on the site, which allows local people to rent or take part ownership of their home.
Councillor Marco Cereste, leader of Peterborough City Council, said: "The Vista development is a vital first step in the regeneration of the South Bank area, which is a key site in our wider growth plans for Peterborough. It is the larger of only two such schemes currently being delivered in the country and is considered a national exemplar of sustainable housing.
"Schemes like this add to our growing reputation as the Home of Environment Capital and strengthen our position as a leader in the environmental sector."
Terry Fuller, executive director for East and South East England at the Homes and Communities Agency, said: "We're committed to ensuring that Vista achieves the highest possible energy efficiency standards and careful attention to detail, from the design and planning stages right through to construction so that the quality of the homes will be second-to-none.
"As well as being a great place to live with a high proportion of affordable homes, Vista is set to become a landmark eco-friendly development for Peterborough and the housebuilding industry as a whole."

To register interest in the energy efficient homes available at Vista visit morrisvista.co.uk.