New Mazda3 and Mazda5 Venture Edition models on sale now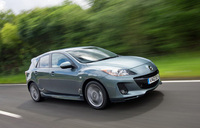 To offer British motorists even greater style and value this summer Mazda is introducing four special versions of its popular Mazda3 and Mazda5 – the 'Venture Edition' models, priced from £17,495 (OTR).

On sale now, the new Venture Edition quartet features generous levels of specification including: front fog lights, gun metal alloy wheels, sports front grille, side skirts and rear spoiler and privacy glass. Inside, there is Sanyo TomTom navigation with 5.8-inch touch-screen display and integrated Bluetooth®, plus climate control air-conditioning and cruise control.

"The arrival of the new Mazda3 and Mazda5 Venture Edition models, with their unique combination of advanced technology, sports styling, a premium interior and great added value, will attract new consumers to our showrooms," comments Peter Allibon, Sales Director, Mazda UK.

"Both the Mazda3 and Mazda5 feature attractive styling and deliver a dynamic and engaging drive, with strongly performing petrol and diesel engines, plus finely tuned suspension and steering, and a top quality spacious and practical interior. With competitive fuel consumption and CO2 emissions, together with reduced running costs and Mazda's outstanding Japanese-style build quality and legendary reliability, the Venture Edition models make great ownership prospects," adds Allibon.

Based on the Mazda3 TS2, the Venture Edition also gains heated front seats and sports interior – for a modest total premium of £500 above the donor-car. The Mazda5 Venture Edition is based on the Mazda5 TS2 and benefits from sports styling, a piano-black centre console and iPod® connectivity. Premium above the donor-car is £630.

Customers buying a Venture Edition model have a choice of responsive and powerful engines. The Mazda3 is available with a 1.6-litre MZR (105ps) petrol engine at £17,495 or a 1.6-litre (115ps) diesel priced at £18,995. The Mazda5 comes with a 2.0-litre (150ps) MZR petrol engine for £19,995 or a 1.6-litre (115ps) diesel costing £21,290.

Depending on model, fuel economy can be as high as 65.7mpg (combined cycle) and CO2 emissions as low as 115 g/km – for diesel Mazda3.

Specifications across the Mazda range are extremely generous and standard equipment for the Mazda3 and Mazda5 Venture Edition models includes: front, side and curtain airbags, Dynamic Stability Control, Traction Control System, Cruise control, remote central locking and dead locks. The cabin's feature driver's seat height adjustment, leather steering wheel with audio controls, CD radio with iPod® connectivity, six audio speakers and a Thatcham Category 1 alarm to keep everything secure.

With its unusually long wheelbase (2,750mm) and sliding rear doors, the Mazda5 Venture Edition makes an ideal family car with seating for up to seven. It is an immensely capable load carrier, with Mazda's unique Karakuri cabin versatility, third row seats which split 50/50 and fold flat to the floor, and a cargo volume of 857 litres when loaded to the belt line and 1,485 litres loaded to the roof.

For full details of the latest promotions and finance offers, visit mazda.co.uk/showroom/offers.