Explore the Brecon Beacons National Park in an electric car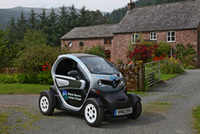 The Brecon Beacons National Park has become the first in the UK to offer a fleet of electric vehicles.
Be among the very first to come and explore the Brecon Beacons National Park from behind the wheel of a brand new Renault Twizy, an innovative low-energy vehicle powered solely by the Welsh sun, wind and rain!
As part of the Eco Travel Network, the Brecon Beacons has become the first national park in the UK to offer a fleet of electric vehicles. Visitors and locals alike are being invited to take the wheel of six new Renault Twizys, each of which can reach 50 miles an hour and can travel up to around 50 miles between charges, so you'll be able to travel far and wide, from Hay-on-Wye to Llanthony Abbey, along some of Wales' most scenic driving routes even if you haven't brought your own car along with you.
A handful of hotels and self-catering accommodations have teamed up with the Eco Travel Network, meaning that you'll be able to rent a Twizy before you arrive and start exploring right from your doorstep. From Brecon Beacons Holiday Cottages and the Angel Hotel in Abergavenny to Old Radnor Barn in Talgarth, these accommodations are helping make it that much easier to experience everything that makes the Brecon Beacons such a special place to visit without impacting on the landscape. You can even expect special itineraries based on the very best things to do and see while renting one, while Llansantffread Court near Abergavenny are even offering their Twizy to guests free of charge!
As part of the initiative, over 20 informal charge points for electric vehicles have been set up in pubs, cafes and visitor attractions throughout the national park, so you can charge up even while enjoying family day out, or tucking into local welsh produce.
This all makes the Brecon Beacons an ideal destination for couples looking to holiday without a car. Having caught the train to Abergavenny you can head on over to the Angel hotel, or perhaps book yourself into a cosy one bedroom cottage, safe in the knowledge that you'll be able to rent a Twizy and explore far and wide without having an impact on the local environment.