Yas Marina gears up for Formula 1 Grand Prix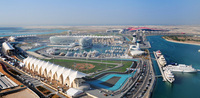 Yas Marina, operated and managed by Camper & Nicholsons Marinas, has opened bookings for the Formula 1 Etihad Airways Abu Dhabi Grand Prix, taking place from 2nd-4th November 2012 with berths filling up quickly.
Located at the heart of the Yas Marina Circuit, the marina offers members and day visitors alike the ultimate yachting and racing experience.
Racing fans can watch the Grand Prix from the comfort of their own yacht for a very competitive berth fee. Formula 1 berths entitle members and their crew to complimentary Yas Marina guest and crew passes, access to the nightly post-race concerts, car parking and transport including water taxis, club cars and shuttle buses. Yas Marina has a selection of excellent track view berths available and large screens located within the marina will broadcast the race live to ensure you don't miss the action.
Cedric Le Rest, General Manager at Yas Marina said: "The facilities, services and atmosphere at Yas Marina, particularly during the F1 event, make the marina a stand out venue with a great value offering.
Our berth bookings for this year are looking very strong, with 2012 shaping up to be our biggest year yet and a huge demand for track view bookings in particular. Yas Marina has a fantastic atmosphere throughout the event and is fortunate to be located right at the heart of the race circuit, making the marina a great place to be for boat owners and general visitors alike."
Yas Marina also offers attractive annual berthing packages inclusive of an F1 berth and the Yas Marina Privilege Card which offers a variety of discounts across Yas Island facilities. Yas Marina boasts a sub-tropical climate, perfect for cruising with easy access to pristine coastline, protected waterways, 200 uninhabited islands and the nearby cosmopolitan cities of Abu Dhabi and Dubai.
With a variety of flexible accommodation options including serviced apartments, hotels and apartments nearby, Yas Marina offers an attractive lifestyle with nearby facilities on Yas Island including a world class golf course, Yas Waterworld (scheduled to open at the end of 2012), Seawings seaplane tours and Ferrari World Abu Dhabi, the world's largest indoor theme park. The marina itself also offers a range of dining and entertainment options from fine dining at Cipriani to more casual settings like Stars 'N' Bars.
Yas Marina offers 143 yacht berths from 8m to 90m, with additional visitor berthing for superyachts up to 150m. Formula 1 rates start from 10,395 AED, (approx. $2,830 USD) with a limited number of trackside view berths available, while annual berths including Formula 1 race week start from 16,455 AED (approx. $4,480 USD).
For further information on Yas Marina, visit cnmarinas.com/yas.