Only two homes available after stylish Bassaleg properties snapped up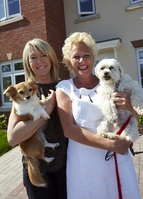 There's still time to snap up a home at the sought-after Parc Eglwys development by award-winning housebuilder Lovell at Bassaleg but you'd better be quick – only two of the scheme's stylish properties remain for sale.
"Parc Eglwys have been extremely popular and the development has sold incredibly quickly," says Lovell regional sales manager Kate Rees. "It's in a brilliant location, between Newport and Cardiff, with all the advantages of a village and just over a mile from Junction 28 of the M4."
Delighted homebuyers include mental health nurse Sian Davison. Two of Sian's friends have moved in at the development after hearing how pleased she is with her new two-bedroom property, including her former neighbour Sam Titley.
"We've been friends for a long time and it's lovely to have her just round the corner again," says Sian. "I love it here and it feels as though I have lived here for ever. I'd been looking to downsize from my previous property for a couple of years but there were no suitable new-builds in the area. Lovell have been fantastic and my sales advisor Julie worked tirelessly to make the move as easy as possible. I love the house and the area is so quiet with lots of wildlife – I even had a kingfisher in my garden the other day."
Beauty therapist Sam says: "I wanted to stay in this area but thought I might be priced out. For me, the house was perfect and so was the price. I have a great outlook and the house is beautifully designed, I love all the finishing touches."
The two homes still available at Parc Eglwys are the three-bedroom Raglan house style, each priced at just £180,950 for a beautifully designed semi-detached family home with parking. The ground-floor accommodation offers a spacious living room with French doors, a kitchen / dining room, cloakroom and hall. Upstairs is the master bedroom with en-suite, the family bathroom and two further bedrooms.
Both of these remaining homes are available with the Lovell 80/20 Shared Equity scheme and can be purchased at the 80 per cent price of £144,760, terms and conditions apply.
Lovell is currently celebrating two major award wins: a survey by In-house Research found that 100 per cent of Lovell homebuyers in South Wales surveyed would recommend Lovell, leading to a Gold Award for customer satisfaction for the company. This is the third year running that 100 per cent of homebuyers have given Lovell's South Wales team their seal of approval by saying they would recommend the housebuilder. The accolade comes hot on the heels of Lovell receiving the maximum five-star rating from homebuyers in the HBF (Home Builders Federation) national Customer Satisfaction Survey.
For more information, visit lovell.co.uk.