The Montpellier Hotel celebrates Cheltenham Literature Festival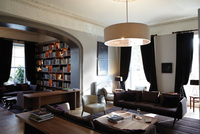 The Montpellier Chapter is gearing up for The Times Cheltenham Literature Festival, taking place from 5 - 14 October 2012.
Situated just minutes from the celebrated event, the hotel is sponsoring BBC racing presenter Clare Balding's interview with champion jockey Frankie Dettori on Tuesday 9th October. Frankie talks to Clare, herself a former jockey, about his new memoir, 'Tall Tales from the Weighing Room', recounting jockey rivalries, disastrous bets, debauched parties and his seven magnificent Ascot wins. For a pre-event treat, ticket holders can enjoy a two-course dinner at The Restaurant at The Montpellier Chapter at the special price of £10 per person.
Other highlights this year include J.K. Rowling on her highly anticipated novel for adults, as well as Salman Rushdie, Caitlan Moran, Roger Moore and Olympic star Victoria Pendleton.
Continuing the literary experience post-festival, the hotel's Library features a wide selection of hardcover books, backlist titles, classic fiction and older titles capturing key local themes. Free Wi-Fi throughout the property means Kindle users can download new titles as they like too.
To refuel after the event, The Restaurant serves dishes with seasonal ingredients sourced locally wherever possible, or guests can curl up with a book by the fire and enjoy a lighter meal in The Library. Literary buffs can celebrate with a signature autumn cocktail or relax over a nightcap in The Bar.
Helping creative minds wind down, The Spa is a tranquil haven with a range of all natural treatments by Devon based skincare company REN, which are tailor-made to the individual.
Bookworms keen to explore beyond the festival can discover things to do in and around the Cotswolds on the in-room 3G iPod Touches, while those riveted to their novels can check out the specially selected playlists for the perfect musical accompaniment.
Clare Balding's interview with Frankie Dettori takes place at The Forum on Tuesday 9th October at 18.30. Tickets priced at £12, on sale from 20 August. Rates at The Montpellier Chapter start from £140 per double room, including breakfast. For bookings and more information, visit themontpellierchapterhotel.com.