Mazda launches new wave of fleet communication channels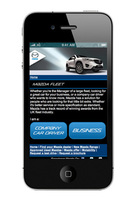 Mazda is embracing sophisticated web-based and cutting-edge smartphone technology to increase communication with fleet decision-makers and company car drivers.

Leading the way is a 'made for smartphone' fleet website - Mazda's fleet-specific mobile phone website which went live this month - has been 'right-sized' to make access and usage efficient and straight-forward. Mazda believes it is one of the first fleet-specific mobile phone websites to be launched by a motor manufacturer.

In addition, Mazda is further expanding its communications with fleet customers - both fleet decision-makers and company car drivers - as well as prospects by:
Utilising LinkedIn, the world's largest professional network on the internet with more than nine million members in the UK.
Sponsoring the Fleet Academy - a web-based forum where fleet professionals can share news, views and opinions with others in the fleet industry.

Michael Stewart, Manager Fleet and Used Car Marketing at Mazda UK, said: "Technology and methods of communication are changing rapidly and the fleet-dedicated initiatives we are introducing enable two-way interaction with existing customers and prospects at times convenient to them and while they are on the move."

Stewart explained: "Few if any motor manufacturers have a dedicated fleet site that has been specifically designed for smartphone use. Most sites are not designed for mobile phone use and many use incompatible technology.

"We already use electronic methods of communication such as e-mail to interact with our corporate customers and in turn they use similar ways to contact Mazda. As many of the messages communicated are accessed via a smartphone, we felt it was vital to provide our customers with a dedicated mobile site designed to make interacting with Mazda even easier."

The site contains up-to-date details on the comprehensive Mazda range including images and video footage, a section on new models such as the recently launched Mazda CX-5 compact crossover SUV featuring breakthrough SKYACTIV technology, special vehicle offers, information on Mazda Contract Hire and details on how to contact the Mazda Corporate Support Centre and the marque's franchise dealer network. The site can be accessed on a smartphone via mazda.co.uk and then pressing the 'fleet' tab.

Stewart said: "For busy fleet managers and company car drivers the fleet mobile site is packed full of information that can be accessed at a time convenient to them."

Meanwhile, Mazda has already embraced social media via Facebook, Twitter and YouTube, but the new LinkedIn site is its first foray into the expanding communication channel beloved of businessmen and women.

The new LinkedIn site also goes live this month and has two facets:
A Mazda fleet profile section highlighting its complete model range and new launches.
Two forum sections with one targeted at employees with fleet responsibility in small and medium sized companies and another at full time fleet professionals. Information will be available on Mazda and its model range and key industry issues and topics such as: tax, legislation, fuel pricing, telematics, service maintenance and repair costs and vehicle funding.

Stewart added: "We want to encourage debate, questions and dialogue from the fleet community and specifically fleet managers as well as employees in SMEs with fleet responsibility.

"The site will showcase Mazda product but will also aim to be informative and engage those in the business community that want to know more about Mazda as well as fleet and company car issues."

The LinkedIn site - accessible at linkedin.com/company/mazda-fleet or by searching 'Mazda Fleet' on LinkedIn - will also share some of the news and opinions highlighted on the Fleet Academy, a website (fleetacademy.co.uk) launched by trade publication Fleet World in association with Mazda.

Stewart explained: "The site links in with our own communications strategy and positioning of Mazda as an organisation that is synonymous with thought leadership by offering independent views on the fleet market and key topics."