Fashion etailers brave out new world of online fashion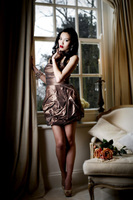 Online sales of clothing, footwear and accessories rocketed by 23% in 2011 year on year according to etail trade association IMRG.
Ariella Couture founder and Creative Director Lana Marie Constantine says: "Ariella, the company my father founded has been a bricks and mortar trader for over 45 years yet now recognise the internet is increasingly where fashion is heading". Ariella Couture (ariella.com) launched in April 2012 as an online proposition and in select designer outlets such as Harvey Nichols Dublin.
Fashion etailers have not, however, all had an easy run of it as they swap bricks and mortar for pixels and kilobytes.
Mark Woods Creative Director at etailer Very says: "Premium fashion lines can sometimes translate poorly online due to the difficulties in displaying the quality of the fabrics and cuts".
Sizing is another challenge online and one of the key reasons why shoppers return their purchases. Ariella recognise this and provide excellent no-nonsense returns policy and also bespoke fitting at their North London studio for any alterations.
Etailers also face issues with presentation, says Rob Feldmann, CEO of private Sale etailer BrandAlley. "The mood of a collection can sometimes be lost". "We pride ourselves on offering our customers interpretations of catwalk looks as quickly as possible," he says.
Including models faces can also detract shoppers from snapping up online purchases, according to Friend. Ariella Couture, however, have opted to preserve the model wearing a garment to "show it in it's natural environment", says Lana Marie.
Etailers are constantly experimenting with innovative ways to bring products to life on their websites, including zooming, product rotation and catwalk videos. "Video has helped to reduce returns by showcasing products from every angle and increasing conversions by 2.5%".
Augmented reality, such as 3D, is gaining momentum. Ariella Couture was the first fashion house in the United Kingdom to offer 3D. It is early days for the technology, but it does help to give a clearer idea of what a product will look like if you are fortunate enough to have a 3D monitor.
Styling plays a key role at Mr Porter according to Toby Bateman, buying director of premium menswear etailer Mr. Porter. "The way we style each of our products enables us to put any item with it's ideal partner outfit and therefore better convey even the trickiest fashion pieces".
Very and Ariella Couture are developing virtual fitting rooms, both likely to launch next year. E-tailers are 'watching this space' as more and more people opt for purchases online as opposed traipsing up and down the High Street.