All-new Mazda6 estate to debut at Paris Motor Show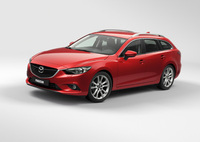 Mazda will celebrate the world premiere of its all-new Mazda6 estate at the Paris Motor Show. The new Mazda6 saloon, currently on show for the first time at the Moscow Motor Show, will also be exhibited in Paris, alongside the estate. Both models displayed in France will feature Mazda's new SKYACTIV-D 2.2 clean diesel engine. Sales of the all-new Mazda6 will begin in Europe later this year.

New Mazda6 offers the pleasure of responsive and agile driving, which is at the core of the Mazda brand, while also featuring a sense of dignity, style, luxury feel and comfort expected from a vehicle in the C/D segment.

The SKYACTIV-D 2.2 diesel engine will be available in either Standard Power or High Power versions. Both engine types comply with Euro6 emissions standards. Additionally, the new Mazda6 will also be available with the SKYACTIV-G 2.0 petrol engine.

The new Mazda6 is the flagship model for a new generation of Mazda products. It incorporates the very best of Mazda's craftsmanship and technical expertise across all aspects of the car, from dynamic performance and design, through to environmental performance and safety. It is the second of Mazda's new generation of products, following the Mazda CX-5 compact SUV, which incorporate both the full range of SKYACTIV technologies and the new KODO – Soul of Motion design theme.

New Mazda6 is the Japanese brand's first vehicle to feature the company's unique brake energy regeneration system, i-ELOOP. The introduction of i-ELOOP marks stage two of Mazda's Building Block Strategy for environmental technology development.