Jaguar Land Rover invests £370 million in new Range Rover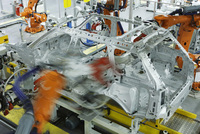 Jaguar Land Rover, UK premium carmaker, has announced it has invested £370 million to upgrade its UK manufacturing facilities and increase productivity as it prepares to launch the all-new Range Rover in 170 countries around the world.

Inaugural sales of the fourth-generation Range Rover, the world's most refined Sports Utility Vehicle (SUV), are to begin this month following a three-year engineering project, supporting 1,000 jobs in design, product development and manufacturing at Jaguar Land Rover.

Dr. Ralf Speth, Jaguar Land Rover Chief Executive Officer, said: "This outstanding new Range Rover symbolises our commitment to investing in Britain and exporting around the world, delivering class-leading performance, agility, quality and luxury in a model that enjoys iconic status in almost every market. As the UK's leading automotive investor in R&D we are proud of the work that has gone into developing the new technologies and innovations to make the new Range Rover possible. Through a £370m investment in our manufacturing facilities we have been able to build the world's first SUV with lightweight all-aluminium construction, a car that is 20% lighter, with fuel consumption and carbon dioxide emissions reduced by 22%."

As part of the £370 million investment package, Jaguar Land Rover has installed a new aluminium body shop for the latest Range Rover at the company's Solihull plant, near Birmingham, along with upgrades to paint-applications technologies, trim assembly, warehousing and Jaguar Land Rover's first customer handover centre.

The Range Rover forms part of a new model offensive by Jaguar Land Rover, which will launch shortly the much-anticipated Jaguar XF Sportbrake and the exciting new Jaguar F-Type sports car.

"Jaguar Land Rover is firing on all cylinders, generating export revenues of close to £8 billion a year as we meet demand for a model-range that justifies continued expansion in our UK facilities and elsewhere," added Dr Speth.

The Jaguar Land Rover Chief Executive today celebrated the new Range Rover launch at a preview event in Richmond Park, London, where prospective owners, dealers, the media and company executives hailed the latest model.

Customers will begin taking delivery of the new vehicles in early 2013, some 40 years after the first Range Rover was unveiled.

The arrival of the latest model follows a significant investment in all-aluminium production processes at Land Rover's Solihull plant, where more than 6,800 workers are employed on Range Rover and other models.

The lightweight aluminium platform will deliver enhanced performance and fuel economy, lowering CO2 emissions. Such breakthroughs follow a capital expenditure programme that has seen Jaguar Land Rover create more than 8,000 new jobs in the past two years.

The company is spending in excess of £1.3 billion with suppliers around the world, with £800 million of that in the UK alone, supporting an estimated total of 190,000 jobs in the UK supply chain.

As part of its recent expansion, Jaguar Land Rover has:

opened a new state-of-the-art manufacturing facility at Solihull;

begun work on a £355 million engine factory near Wolverhampton;
moved to 24-hour production at Halewood on Merseyside to meet demand for the Range Rover Evoque;

created 1,100 new jobs at Jaguar's Castle Bromwich plant;

launched Land Rover assembly in India; and

signed a joint venture agreement with the aim of launching manufacturing in China, subject to regulation approval.

In August, demand for vehicles helped lift pre-tax profits by 32% to £333 million for the first quarter of the current fiscal year, with more than 85,000 cars sold in the three months to June 30.

Range Rover has been a major contributor to that growth, with annual sales of all models increasing 20%* in the 2011-12 financial year, driven particularly by rising demand in markets such as China and Russia.

John Edwards, Land Rover Global Brand Director, said: "Land Rover is a brand with momentum, we have ambitious plans for our future and we are broadening our footprint.
Land Rover has seen 12 months of continuous sales increase, up in every region, up 40% in total. Our objective at Land Rover is to be the world's SUV brand of choice for today and tomorrow, a car for all reasons, fit for every purpose."

The market launch schedule for the new Range Rover will be announced in the coming months. Full technical specification and pricing will be released ahead of the Paris international motor show this month.