All-new Range Rover is revealed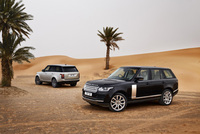 Land Rover has announced the launch of the All-New Range Rover, the world's most refined and capable SUV.

The fourth generation of the iconic Range Rover line, the new model has been revealed to the world via a dramatic event held at The Royal Ballet School in Richmond, London.

The All-New Range Rover is the ultimate luxury SUV, following the innovative spirit of the original design from over 40 years ago.

The world's first SUV with a lightweight all-aluminium body, the new Range Rover takes the capabilities of the marque's flagship to a new level, with even greater luxury and refinement, enhanced performance and handling on all terrains, and significant advances in sustainability.
Launching the all-new Range Rover represents a major milestone for Land Rover, being the first exciting output from an unprecedented investment in premium vehicle technologies," said John Edwards, Land Rover Global Brand Director.

"The new Range Rover preserves the essential, unique character of the vehicle – that special blend of luxury, performance and unmatched all-terrain capability. However, its clean sheet design and revolutionary lightweight construction have enabled us to transform the experience for luxury vehicle customers, with a step change in comfort, refinement and handling."

With order books now officially open and sales scheduled to start in late 2012, the all-new Range Rover will be introduced in 170 markets worldwide.

Designed and engineered at Land Rover's development centres in the UK, the new Range Rover will be produced in a state-of-the-art new low-energy manufacturing facility at Solihull, UK. Over £370million has been invested in the Solihull plant to create the world's largest aluminium body shop.

Clean and contemporary design

The all-new Range Rover has a clean and elegant shape which is derived from a fresh new interpretation of Range Rover design cues. While instantly recognisable as a Range Rover, the new vehicle takes a significant step forward with a bold evolution of the model's iconic design language.

At just under 5m long, the new Range Rover has a very similar footprint to the outgoing model, but with a smoother and more streamline profile – the most aerodynamic Range Rover ever.

The luxurious interior has a modern and pure character, incorporating distinctive Range Rover design cues, but with a fresh and very contemporary treatment. The cabin retains the characteristic strong, architectural forms, and these are emphasised by extremely clean and elegant surfaces which are flawlessly executed using the finest leathers and veneers.

With over 118mm more legroom, the rear compartment offers vastly more space and comfort, with the option of the desirable new two-seat Executive Class seating package for the ultimate in rear-seat luxury.

To enable customers to create their perfect bespoke vehicle, the unique luxury ambience of the new Range Rover can be extensively tailored with an indulgent choice of colours, finishes and special details, from the immaculately-trimmed colour-themed interiors of the exclusive Autobiography series, to the stylish range of alloy wheels up to 22 inches in diameter.

Most refined, most capable Range Rover ever

The all-new Range Rover has been engineered from the ground up to be the most refined, most capable Range Rover ever. With the adoption of the latest body and chassis technologies, the vehicle's all-terrain performance has moved on to another level, both in the breadth and accessibility of its off-road capability, and its on-road handling and refinement.

Amongst the industry-leading innovations is a ground-breaking next-generation version of Land Rover's Terrain Response® system, which analyses the current driving conditions and automatically selects the most suitable vehicle settings.

An all-new state-of-the-art lightweight suspension architecture delivers class-leading wheel travel, providing exceptional wheel articulation and composure to deal with the toughest conditions.

Outstanding traction and dynamic stability is provided by the proven Range Rover full-time intelligent 4WD system, with a two-speed transfer box, working in parallel with the sophisticated electronic traction control systems.

The new Range Rover's unmatched breadth of capability is also reflected in its tremendously strong structure with enhanced body geometry for all-terrain conditions, wading depth which has improved by 200mm to 900mm, and its position as the best towing vehicle in its class with a 3,500kg trailer capability.

To ensure exceptional durability and reliability, the new Range Rover has been subjected to Land Rover's punishing on- and off-road test and development regime, with a fleet of development vehicles covering countless thousands of miles over 18 months of arduous tests in over 20 countries with extremes of climate and road surfaces.

Refined and effortless driving experience

The All-New model has been engineered to meet the highest luxury car standards for refinement.

With its highly acclaimed line-up of torque-rich engines, the new Range Rover delivers swift and effortless performance. Customers have a choice of a petrol 510PS LR-V8 Supercharged and two diesel (3.0-litre 258PS TDV6 and 4.4-litre 339PS SDV8) engines, all of which are now paired with a smooth and responsive eight-speed automatic transmission.

True to the Range Rover DNA, the new model features the unique Command Driving Position, placing the driver in an elevated, upright seating position – typically over 90mm higher than other premium SUVs – to provide a supreme sense of confidence and control.

Lightweight construction enhances performance and sustainability

The all-new Range Rover features a revolutionary all-aluminium monocoque body structure which is 39 per cent lighter than the steel body in the outgoing model.

Continuing Jaguar Land Rover's leadership in aerospace-inspired, high-performance lightweight structures, the all-aluminium body enables the new vehicle to significantly enhance both performance and efficiency.

Combined with weight savings throughout the chassis and driveline, the lightweight structure contributes to a model-for-model weight saving of up to 350kg compared to the outgoing vehicle.

The weight saving helps the 510PS LR-V8 Supercharged model to accelerate from 0—60mph in just 5.1 seconds, a reduction of 0.8 seconds over the outgoing model. At the same time, fuel consumption is cut by 9 per cent.

The lighter structure has also made it possible to introduce the sophisticated 3.0-litre TDV6 engine into the model line. With performance just as strong as the previous 4.4-litre TDV8 Range Rover, the smaller engine takes the total weight saving up to 420kg, and delivers a dramatic 22 per cent reduction in fuel consumption and CO2 emissions, achieving figures of 37.7mpg (7.5 lit/100km) and 196g/km.

The new Range Rover's environmental credentials will be further enhanced by the introduction of a state-of-the-art high-efficiency diesel hybrid model later in 2013 (target CO2 169g/km).

Premium Range Rover technologies

The all-new Range Rover has been engineered with the latest developments in vehicle technologies, from interior luxury features to advanced chassis and driver assistance technologies.

The interior is packed with a full suite of premium features to provide both front and rear seat passengers with the same peerless luxury experience. Their well-being is assured by the latest interior technologies for comfort, convenience and seamless connectivity. The new and improved features include:
Convenience – premium features including keyless entry, soft door close with power latching, power upper and lower tailgates, cooler compartments, and electrically deployable towbar
High-end audio from British specialists Meridian – exclusive surround sound music systems with audiophile-quality sound
Displays – state-of-the-art high-resolution displays, include the stunning full digital instrument cluster and the central 8-inch touch-screen with Dual-View functionality
Voice control and connectivity – a seamless connectivity package for mobile devices
Climate control – all-new best-in-class climate control systems, including the powerful new premium four-zone system and Park Heater timer facility
Luxurious seating – upgraded seating with luxurious new features such as multi-mode massage, and the exclusive new Executive Class rear seating package
Interior illumination – the latest LED illumination for subtle and sophisticated ambient lighting, including the ability to change the colour scheme to suit the driver's mood

To enhance dynamic performance, and to ensure that drivers enjoy a relaxed and stress-free experience behind the wheel, the new Range Rover incorporates a comprehensive range of advanced chassis and driver assistance technologies. Among the new and enhanced features are:
Two-channel Dynamic Response active lean control, and Adaptive Dynamics with continuously variable damping
Electric Power Assisted Steering, which enables Park Assist – the latest automated technology to help drivers parallel park their car in tight urban parking spots
Adaptive Cruise Control – with new Queue Assist feature which allows the system to continue functioning at low speeds and down to a complete stop
Intelligent Emergency Braking (including Advanced Emergency Brake Assist) – to help drivers avoid a collision if the traffic ahead slows quickly or another vehicle suddenly moves into their lane
Blind Spot Monitoring – with new Closing Vehicle Sensing feature to detect vehicles which are closing quickly from a further distance behind
Reverse Traffic Detection – to warn drivers of potential collisions during reversing manoeuvres
Surround Camera System – with T Junction view, Trailer reverse park guidance, and Trailer hitch guidance.

Pricing

Pricing in the UK starts from £71,295 for the Range Rover Vogue 3.0L TDV6 rising to £98,395 for the Range Rover Autobiography 5.0L Supercharged.

Order books are now officially open with the first months of production expected to fill up immediately. Sales of the outgoing Range Rover remain extremely strong. In the last 12 months Land Rover has sold more vehicles across its range than in any other rolling 12 month period, retailing nearly 280,000 units world-wide.