Cool and strange camping and caravanning from around the world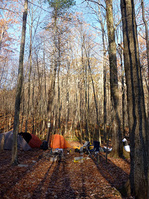 Let's face it traditional tents are so last decade. They are something to take to a muddy British festival or to the beach but they really don't cut it anymore in terms of style, suave or silliness. In recent years there has been a huge boom in unusual camping; both in terms of accommodation and where you are. There's something great about a real adventure holiday spent camping but now you can choose between a variety of weird and wonderful options. From yurts to tree houses Travel Insurance Web take a look at some of the more unusual camping holiday options!
Yurts and Tepees
We'll start with humble Yurts and Tepees which have become incredibly popular in recent years; and not just with hippy types trying to get back to nature. Scores of companies around the UK and Europe now offer Yurt and Tepee holidays. Some are very basic affairs with just a camp bed and sometimes a small fire others are full blown luxurious affairs decked in ornate wrappings with luxurious décor, throws and cushions – offering truly stylish camping. These have popped up all over the place in the UK and Europe but for the most authentic feel head for a yurt in Mongolia and stay in this beautiful unspoilt country and enjoy a truly local experience! Alternatively try a lake shore in Portugal or an Alpine retreat!
Bedouin tents
Bedouin tents give you a chance to experience an entirely different way of life and, if you head to the source, an incredible culture and holiday like no other. Our favourite destination for Bedouin tent camping is probably Egypt as you can take a camel ride into the vast Sahara staying with locals in these beautiful tents. Alternatively try Jordan where you can enjoy authentic local culture, food and lifestyle while visiting beautiful rocky landscapes and tugged away remote corners of this underrated country. Staying in this style of tents can be luxurious with beautiful throws and cushions but it is the location and natural beauty that you will really enjoy the most.
Airstreams
We're not sure this quite counts as camping but in terms of retro chic you can't get much cooler than a traditional airstream. There's something about them that screams alternative lifestyle and even though they are very similar they feel nothing like a caravan, at least emotionally! You can stay in an airstream in dozens of countries throughout the world with parks having opened up recently in the UK and Europe. However, for us we think the US is the quintessential airstream destination with Arizona or a similar barren landscape offering the most authentic experience. Alternatively try Andalucía in Spain where you can airstream next to beautiful lakes or on the edges of the coast.
Traditional Gypsy Caravans
This is closer to camping than you might think and in terms of experience offers something a far cry from what we're used to. Gypsy caravans are exceptionally beautiful and you can enjoy some incredible locations on a holiday in one; as well as get a taste for a very different, very traditional way of life that is a far cry from its modern incarnations. One of the best places to enjoy a Gypsy caravan holiday is the UK with sites available in Somerset, Cornwall and Wales. Alternatively the south of France offers some fantastic options with rolling hills, beautiful weather and a quiet tranquil setting to enjoy free from the modern bustle. This is a caravanning experience like no other and highly recommended to try; the caravans tend to be warm, cosy and incredibly comfortable – just don't expect all the mod cons.
Tree Houses
We'll finish with tree houses which are, of course, not really camping or caravanning but certainly not like a traditional hotel in any way, shape or form. Tree houses have become popular with the eco crowd but they also offer an amazingly bizarre holiday experience and something unusual to say the least. You can find tree house parks throughout the world now with some of the strangest being found in Brittany in France. However, for a truly unique tree house experience we'd recommend you head to Africa. Countries like South Africa and Kenya offer incredible tree house destinations where you will be able to sit gazing out over the plains and watering holes as herds of animals from elephants to lion stroll past beneath your feet. In terms of unusual adventure this has to be one of the best.