MG launches the best British deal on new cars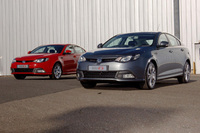 MG has launched what is probably Britain's most generous trade-in deal on new cars.

Customers will get a £3,000 allowance against all models in the award-winning MG6 range by trading in their old car – and almost any old banger will qualify for the huge money off deal!

It means that owners of old and inefficient cars that urgently need replacing can drive away a brand new MG from as little as £12,455 after the trade-in discount. Any make of car, as long as it has an MOT valid for at least 14 days, can be traded in.

Free fuel for 15,000 miles is being offered on MG6 models under a separate deal. Under this scheme customers will be given a Fuel Genie card, with a value of £2,400, which can be used at Tesco and Morrisons supermarket fuel stations.

Clint Cordle, MG Motor UK's Marketing Manager, said: "These are both exceptionally good deals on MG6 GT fastback and MG6 Magnette sports saloons which already offer great value for money with high levels of standard equipment."

The 1.8-litre turbocharged petrol MG6 range is designed and engineered at MG Birmingham where final assembly also takes place.