Shooting stars to make Northern Lights trips even more spectacular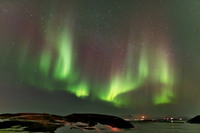 With increased solar activity already making this winter a prime time to view the Northern Lights, Explorers Astronomy Tours says that the most spectacular light show on earth could become even more dazzling in December, when an annual shower of shooting stars is predicted to be easier to observe than usual.
The astronomy tour specialist has scheduled two departures of its new Northern Lights Short Break to coincide with the Geminid meteor shower, which this year will fall over the nights around the new moon on 13 December. There are departures scheduled for 10 December and 13 December, as well as dates in January 2013.
Explorers' five-day tour (from £1,099pp with flights) begins in Reykjavik before travelling to the shores of Lake Myvatn in northern Iceland, which is ideally located to explore the country's rugged landscapes, snow-covered volcanoes, icy waterfalls and natural springs by day, and sufficiently remote to experience a colourful display of the aurora borealis by night.
Leading astronomy expert Dr John Mason, who regularly appears on TV and radio as well as on the lecture circuit, will accompany both of the December departures to share his insight into the incredible natural phenomenon and help people get the most from the experience, whatever their level of interest and knowledge of astronomy. Departures in 2013 will be accompanied by Explorers' astronomy expert, David Phillips.
"The Northern Lights are high up on many people's wish-list of natural wonders to witness at least once in their lifetime, and this year the display should be even more spectacular than usual," said David Phillips, Operations Manager at Explorers. "Add to that some shooting star activity, and people travelling to see the Northern Lights this winter could be in for a real treat," he added.
Explorers, which has more than 30 years' experience of arranging astronomy tours, sets the dates for all of its Northern Lights tours to coincide with a new moon in order to reduce light interference and maximise the chance of witnessing the incredible display of swirling curtains of light. Cloud cover can also prevent viewings, so all of its Northern Lights tours last a minimum of five days, to allow several opportunities to see the lights.
In addition to the Northern Lights Short Break, Explorers offers several other trips to see the Northern Lights, including an eight-day Icelandic Northern Lights tour (from £1,499pp with flights) and a five-day Glaciers, Geysers & Northern Lights break (from £1,159 with flights) which has been specifically designed as a unique and memorable holiday for families.

Last winter Explorers' Northern Lights tours sold-out, and its eight-day tour is already fully booked in February. All of its tours can be booked at astronomytours.co.uk.