Cortijo El Carligto claims top spot as private Andalucian "gastro-villa"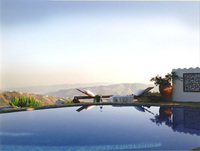 Since welcoming singer George Michael as the first guest in 2009, private rental estate Cortijo El Carligto has steadily expanded its in-house service offerings and A-list appeal to emerge as the premiere "gastro-villa" in Andalucia.
Recognition by Condé Nast Traveler's Gold List for 2012, pitting them against huge and wealthy five-star corporate resorts, has leant legitimacy to El Carligto's claim to be the premiere private villa in Andalucia. Owner Alan Hazel attributes their success to the idea that "guests can have everything at El Carligto that they would expect from a five-star hotel, but here we offer something they cannot: peaceful, luxurious privacy."
Situated on a secluded hilltop at the junction of three mountain ranges and overlooking the Mediterranean, El Carligto employs a small team of freelance professionals for personalised in-house service in a beautiful and secluded environment. While they offer everything from Flamenco performances, beauty therapists and personal trainers to private guides for city tours, attractions or trekking in the mountain nature reserve, gastronomy is a personal passion for the owners and lies at the heart of the service portfolio.
Early in 2012, El Carligto added Michelin rated Chef Juan Quintanilla to its crew, collaborating to offer daily catering and gourmet tasting menus right at the exclusive estate. Chef Quintanilla joins Carligto house chef David Palacios who, in addition to cooking courses and elegant private meals, also offers guided culinary outings off site. These include visits to the historic food markets of Malaga, tapas routes and local winery tours.
Existing culinary packages at El Carligto include short-break options combining cultural and gastronomic explorations, such as the "Spanish Cocina Nueva" four night break. New to the portfolio this autumn and winter are the "Harvest Holiday" packages, including hands-on opportunities to take part in the grape and olive harvests and experiential tours of the wineries and olive mills.
In developing these new packages, the owners have established relationships with the most prestigious wineries and bodegas in their region of La Axarquia and the Sierras de Malaga, the historical centre of sweet wine production that reached global appeal centuries ago and is only now making a comeback, though the region also produces sophisticated reds and dry whites today. This region is also one of the key centres of olive oil production in the world and El Carligto offers access, information and experience of the local oil unavailable elsewhere.
The Private Andalucian Hideaway… On a hilltop perch with views over the Mediterranean to the Moroccan coast, nestled at the intersection of three mountain ranges, Cortijo El Carligto sets a new standard for the private luxury villa rental, offering experiences to remember for life. With all the luxury and attention of a five star hotel, El Carligto offers a striking advantage: serene, exclusive privacy where every visit is bespoke.
Cortijo El Carligto opened to the public in 2010 and quickly gained the attention of the press and discerning travelers alike. The Carligto estate has been featured in The Wall Street Journal, The Guardian, The Sunday Times Travel Magazine, Travel + Leisure, Conde Nast Traveller and Conde Nast Traveler (among other titles), and in 2012 was nominated for the Conde Nast Traveler Gold List.
For more information, visit carligto.com.