3 luxury travel destinations perfect for lottery winners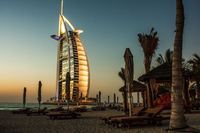 With social media and celebrity magazines giving us arguably a greater insight into the lives of stars than we've ever had before, it is easy to start thinking about what it would be like to be rich and famous.
Of course, thanks to lotteries, some people are lucky enough to experience that lifestyle. If you were to hit the jackpot, what would be the first thing that you do?
Time to indulge
Some people might indulge by buying one or two properties, while others may treat themselves to gadgets or toys that they have always wanted.
Others might even think about investing in a luxury car and there's an article on lottery winner cars featuring some fascinating tales about people who have done just that. For example, UK Lotto winner Tom Naylor decided one new vehicle was simply not enough and chose to instead splash out on a different car for every day of the week. His mini fleet apparently includes a Rolls-Royce, three Jaguars and an Aston Martin.
Of course, many other people would see a lottery win as a chance to explore the world, as a host of incredible destinations would now be in their reach. But, if you won the lottery, where would you want to head to first? Here are just three of our suggestions on the issue.
Burj Al Arab, Dubai
Thanks to its iconic design, the Burj Al Arab has become synonymous with luxury in recent years. Lottery winners looking to splash out on a break to remember can choose from many accommodation options, including the Presidential Two Bedroom Suite.
Jumeirah.com explains how the suite features two floors and comes with everything from dressing rooms to private bars. Guests can also enjoy a butler service and entry to the hotel's exciting facilities, including the private beach.
Mara Bushtops, Kenya
Lottery winners seeking an exciting African adventure could check out accommodation like the Mara Bushtops, which sits close to the Maasai Mara reserve.
As Kuoni.co.uk details, the camp consists of 12 impressive tents which include a deck for wildlife-watching and a sunken bathtub. Game drives are also featured in the cost, while there is a la carte dining, an underground wine cellar and an award-winning spa too.
Tropical Island luxury getaway! Beautiful shot of Fregate Island! ????

Photo credits: fregateislandprivate #seychelles #visitseychelles #sychellesislands #relax #luxury #getaway #fregateisland pic.twitter.com/wfriq8OA0A

— The Seychelles Islands (@visitseychelles) July 11, 2019
Fregate Island, Seychelles
If you want to unwind in absolute luxury after hitting the jackpot, why not head to a private island?
ScottDunn.com outlines how Fregate Island features 17 private villas with infinity pools, while visitors also get the opportunity to relax on their very own beach. A clifftop spa is also available, while the island's giant tortoises are definitely a bonus.
A new level of luxury
Winning the lottery would be a truly life-changing experience and it would open you up to a host of opportunities that you would never have thought possible.
Being able to enjoy a new level of luxury when travelling would be a major benefit and we hope the ideas above might have given you some food for thought as to what you would do if you ever win big.