Florida Keys launches 'Keys Cable' - The ultimate adrenaline accelerator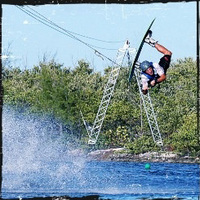 The cable system is an overhead towing device used to pull riders across the water. Located halfway down the tropical island chain at Grassy Key, Keys Cable has two two-point cable systems that are independently operated atop a seven-acre lake.
Opened by Islamorada's water-sports company Otherside Boardsports, Keys Cable is billed as the USA's first cable park to offer full kite-boarding instruction. The park's independently controlled system gives the operator the ability to create a fully customized ride, as only one rider is allowed on the cable at a time.
Cable time rates begin at $22 for 30 minutes or $32 for 60 minutes. Two-hour, half-day and full-day rates, as well as monthly, seasonal and annual passes also are available. Private rentals can be arranged for large groups and parties.
The park offers full equipment rentals as well as instructional and private coaching.
For more information on Keys Cable, visit KeysCable.com
For more information on the Florida Keys & Key West, visit fla-keys.co.uk.